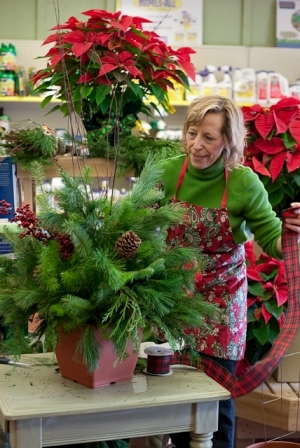 It's all Chris Wagner's fault. I went to Berthold's Garden Center yesterday for a free demonstration of winter outdoor arrangements. I came home inspired. Till now, I'd been happy to enjoy every minute of autumn. I'd put off thinking about Christmas and the requisite decorating. You might argue that Christmas decorating is not requisite. I disagree. Once my brain gets wrapped around the opportunity to be creative, it's relentless. Ergo, requisite.
So here we are 24.5 hours since I got home from Berthold's and I need to wash my hands in mayonnaise. Yes, mayonnaise. Mayonnaise is the only ingredient you need to wash pine tar off of your hands. My hands are currently a tell-tale sign that I've been dealing with pine tar, in my case, pine tar from a fresh 25' garland. I'll be back in a minute when I'm done cleaning me up.
There, that's better. The mayonnaise cleaned the pine tar, and then soap and water cleaned the mayonnaise. All is well in my world.
Step 1
I started by assembling my materials. Berthold's Christmas tree seller may have garland, but he wasn't fully set up yet, so we had to make a separate trip this morning to Costco. The pine cones came from my yard. Later, I scavenged a bit more and came up with bittersweet branches and hydrangeas. The ribbon doesn't count. In the long run, I didn't trust it for outside use.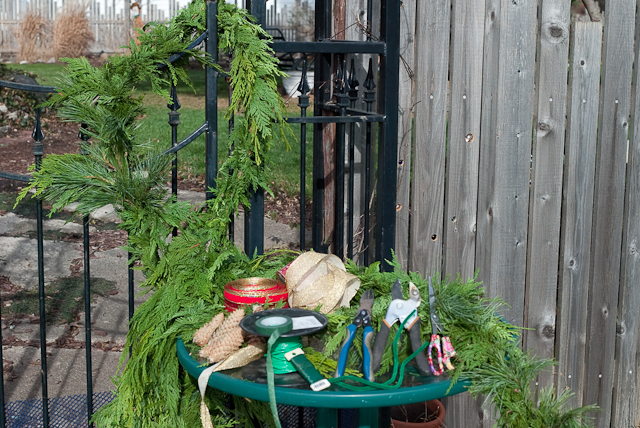 Step 2
I used the sturdy electrical wire to tie the garland to the top of the garden gate, and I used the less visible floral wire for other places. Opt for the wire cutters over the garden shears. I quickly learned I had to.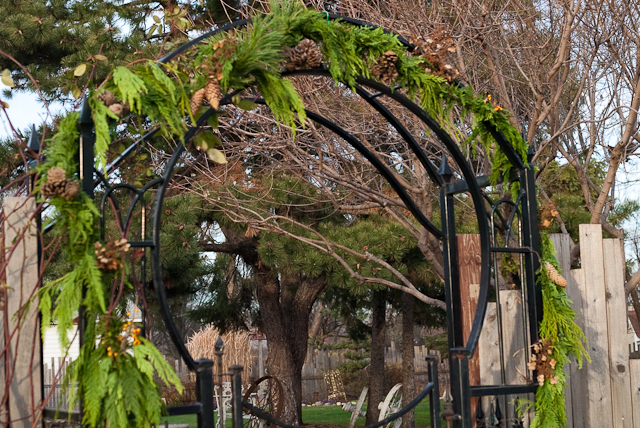 Step 3
I wired the pine cones and bittersweet branches to the garland. I did the same with the hydrangeas. I don't know how well the hydrangeas will survive our Chicago winter. That's ok. I'll consider that part a learning experiment.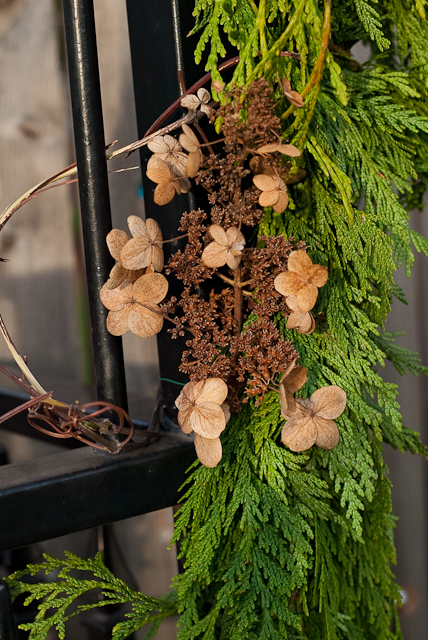 Whola! Simple, natural, effective. Plus you get a twofer out of this. Notice the bottom of the garden gate. That netting is all it took to keep skunks out of our yard this year.

Do you need more inspiration? Check out your local garden center, or mine. Berthold's, right here in my home town of Elk Grove Village, will have their Open House on December 8th. It will be complete with reindeer, hot apple cider, and more demos by Chris. While you're there, you can even get your Christmas tree, decorations, gifts, a completed wreath or winter planter, and supplies to make your own winter arrangements.