A garden distinctly marks the passage of time. Kind of like life, with people growing and shining, and sadly over time, gone. We are experiencing this in both our garden walk and life walk in pronounced ways. Dahlias gone, mums shining, Linda failing, grandchildren shining.
In the category of 'gone', we have the dahlias. Mike's dahlias put up a good fight against the heat and drought, and had their last hurrah just a week ago. Pretty impressive!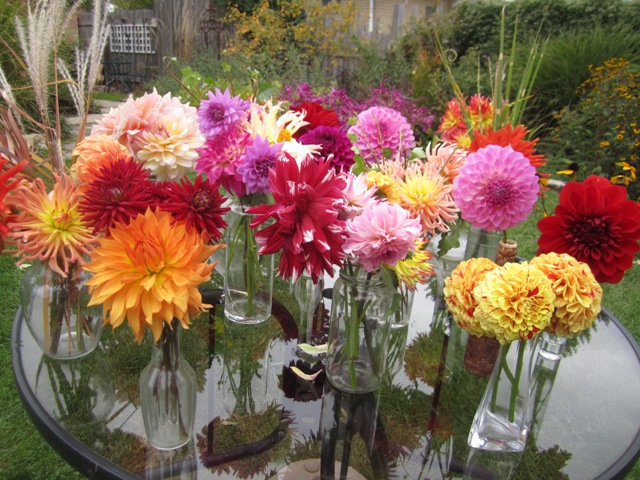 Today, the dahlias are not so impressive. Mike had cut the stalks before we left for Door County on the 5th, and next weekend he will dig up and store the tubers. Those two weeks give the tubers time to concentrate on growing eyes for new sprouts in the spring. Usually, he will clear the cut stalks, but that task was left for another time since we were leaving town. Now after a week, they look pretty sad.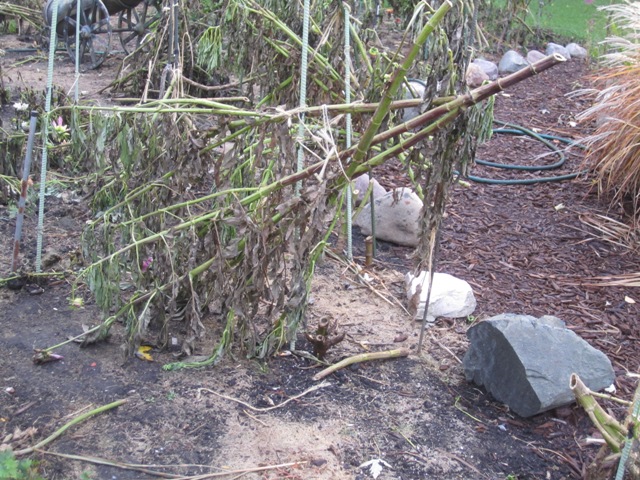 In the category of 'shining', we have the mums. These 5 plants have gotten so full you can't even tell how many there are. Oh, yes you can – I just told you. If you've planted new mums, be sure to water them regularly. That will greatly improve the chances of them coming back like mine did.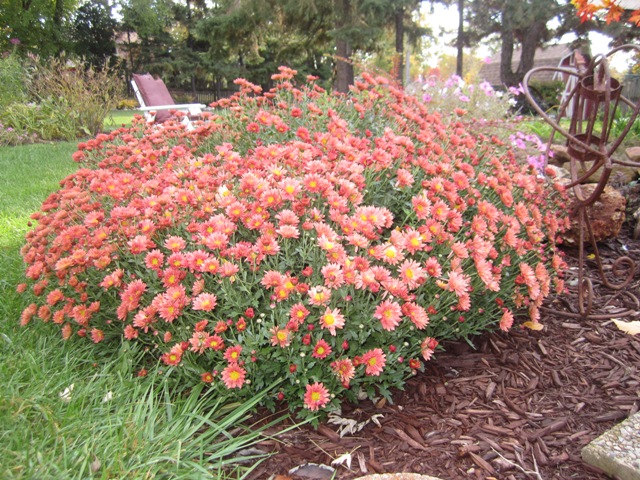 The garden time line is undoubtedly more predictable than our own time lines. We've all got one; we just don't know exactly what it is. We watched our wedding video while we were on vacation. Much joy, and yet some sadness seeing those who have gone. Linda will likely be next. She is home with her loving family, going as gracefully as one can when cancer is involved.
Back to the 'shining' category, where our grandchildren happily reside. Allie is 3 now, and Cam is just starting to walk. I can hardly wait to see the progress he has made while we were on vacation.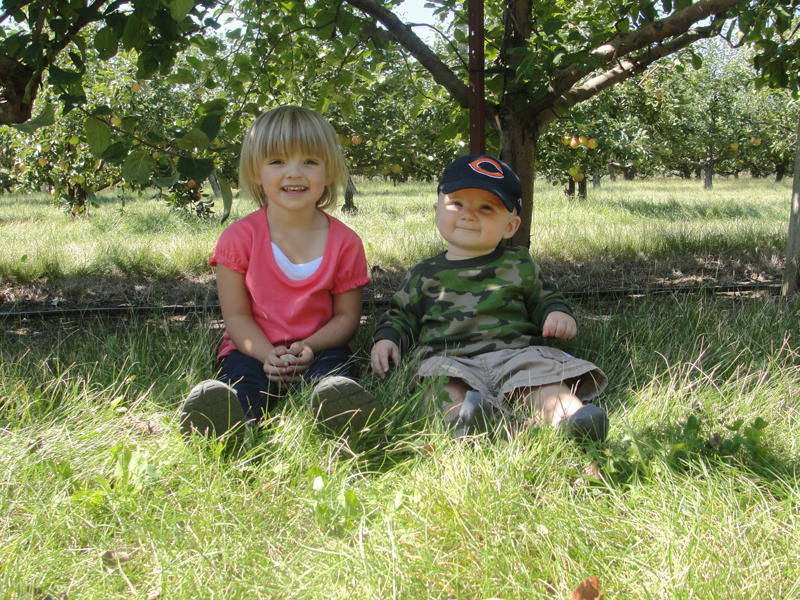 Enjoy the time you have been given! You've all heard Ecclesiastes 3, though you may not know of it as a quote from the Bible. I'll share it here, with a few extra verses you may not know.
Ecclesiastes 3 – 15

For everything there is a season,
a time for every activity under heaven.
A time to be born and a time to die.
A time to plant and a time to harvest.
A time to kill and a time to heal.
A time to tear down and a time to build up.
A time to cry and a time to laugh.
A time to grieve and a time to dance.
A time to scatter stones and a time to gather stones.
A time to embrace and a time to turn away.
A time to search and a time to quit searching.
A time to keep and a time to throw away.
A time to tear and a time to mend.
A time to be quiet and a time to speak.
A time to love and a time to hate.
A time for war and a time for peace.

Ecclesiastes 16-22

What do people really get for all their hard work? I have seen the burden God has placed on us all. Yet God has made everything beautiful for its own time. He has planted eternity in the human heart, but even so, people cannot see the whole scope of God's work from beginning to end. So I concluded there is nothing better than to be happy and enjoy ourselves as long as we can. And people should eat and drink and enjoy the fruits of their labor, for these are gifts from God.
Do you want to know what else is blooming in the October garden? To see what other bloggers have blooming on the 15th of every month, visit May Dreams Gardens – Bloom Day for our Garden Bloggers' Bloom day entries.