I welcome you to 'Zone 5 Favorites on the 5th'. I've started posting on the 5th of every month, redirecting visitors to a favorite posting relative to zone 5.
On this 5th day of the 5th month, I could gripe that our brick path isn't done. But I'm not going to. Never mind that the path was started on April 16th, almost 3 weeks ago.
You might comment that it's just a path for gosh sake, and we should have finished it already. Ya, right. I have to admit that our brick path has gotten only this far.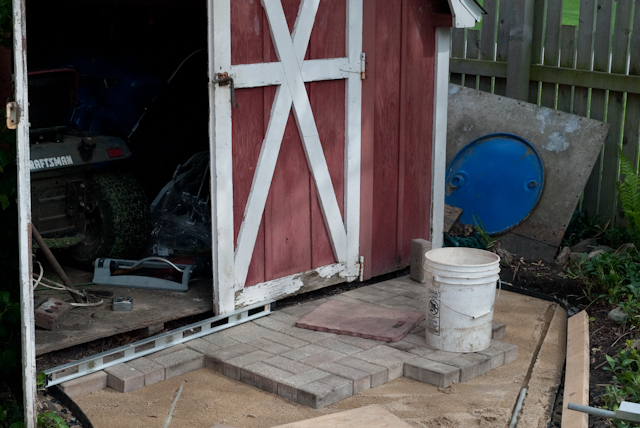 It has been 2 steps forward, 1 step back, and then no time to step at all. Even now, its past midnight as I write this, and Mike and I need to be at the Bloomingdale Plant Sale (201 S. Bloomingdale Rd.) to start selling dahlias at 9 AM.
Instead of being concerned that the project we started on April 16th isn't done, I'm going to be inspired by a completed project. I quote Carolyn, from This Grandmother's Garden, who says "For six years we dreamed of a beautiful Flagstone Patio where we could sit back and enjoy the beautiful landscape we had created."
Compared to six years, perhaps I should consider 3 weeks to be just a drop in the bucket, an insignificant ripple in the space/time continuum. With great optimism, I will look forward to the day that my paths and patio are done, rivaling Carolyn's.
In addition to the inspiring pictures, Carolyn has these articles on the actual process:
The articles get right down to the nitty gritty of building the patio. Carolyn's handyman is her self-proclaimed 'honeyman'. You've got to like a gal who says he is the "bombdiggity".
Also check out her poetry and lovely photography. Carolyn may not be a zone 5 gardener, but one visit to her site and you'll see why I send you there to celebrate Zone 5 – Favorites on the 5th.
I've invited other zone 5 bloggers to join me for Zone 5 – Favorites on the 5th. If that's you, please leave a comment so everyone will know you are part of the gang.
If you are a reader hungry for zone 5 sustenance, please follow the blogger's links to feed upon their favorite postings.