The wheels in my brain are turning. This is always a scary thing for Mike. He sees steam spurting out, fire spewing, and moving parts everywhere. I promised him a life of naps and homemade pierogis. Perhaps, just perhaps, that isn't exactly what happened. He has yet to see a homemade pierogi. On the plus side, who needs the calories anyway? Exercise is much better for you. With this project, he will get exercise.
We had contractors out last year bidding on building us a patio and some pathways. We already have the bricks. Oh boy, do we have the bricks. You may remember these 15 pallets of bricks from postings last year.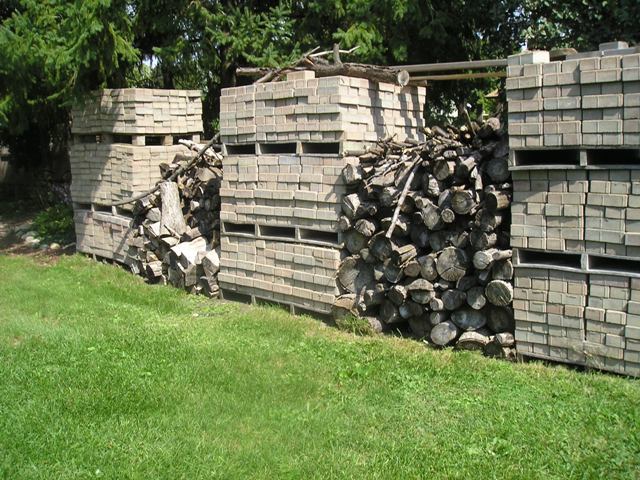 That was when we learned that even with our own bricks, it would be $5,000 to $7,000 to have someone else do the work. That is not going to happen. So this brick pathway is going to be Mike's initiation into doing some of the work himself. He hasn't done anything like that before, but his motto is "figure it out".
First, I have some figuring out to do. I need to know exactly what area I want him to work on. That is pretty easy – right in front of the barn shed doors. The steel plate in front of the doors is less than lovely. The surrounding grass is a problem, especially when it comes to cutting it. Though the lawnmower is right inside the barn, the shape of the area is not good for an easy mow. Brick will suit our low maintenance goal better in the long run. In the short run, there is a lot of work to be done.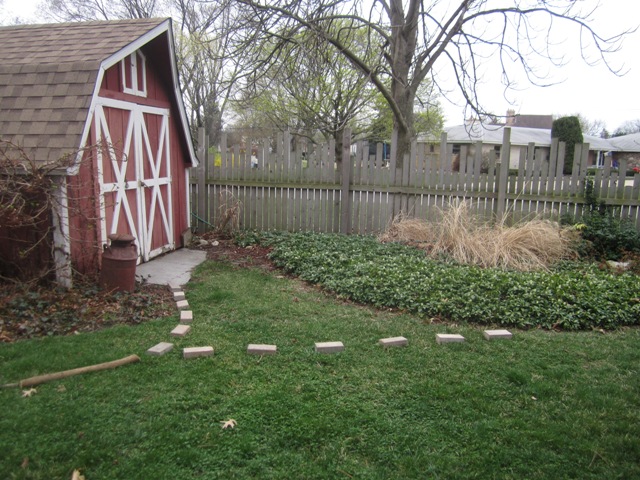 This project needs to be done in tandem with others that will make good use of the rental equipment and good use of the dirt that is generated.
To justify renting a sod-cutter, I will also get a zinnia bed and an extra 18″ of garden around the edge of what we call the 'front 40'.
To use up the dirt, we'll add some to the zinnia bed and to one of the dahlia beds. More importantly, we'll build up an area by the pond that really needs it.
See how quickly 'pretty easy' becomes 'big project'!