I've heard that the longer a couple is married, the more alike they become. I've heard that they can practically read each others thoughts. I can understand Mike knowing what I'm thinking when we are in the same room. Even without a word being said, Mike can read my body language, and he knows me well enough to know what I'm thinking. But that doesn't explain this. 'This' is my desk, and as you might guess from the setting, I often work from home.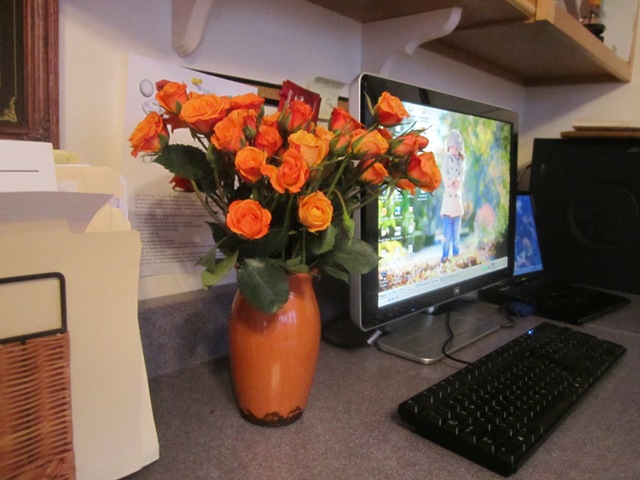 The part that is hard to explain is the orange flowers in the orange vase. It is unusual that I have flowers on my desk this time of year, as it is winter (more of a pseudo winter) in Chicago. It is also unusual that I bought a new vase in winter, as I don't do that very often. So what were the odds of me buying an orange vase on the same February day that Mike buys me orange roses? The odds must have been pretty good, because the vase and flowers appeared in my kitchen within minutes of each other.

Putting flowers on your desk this time of year is a real cheerer-upper. Lindy used to do this for her desk every week. Seem extravagant? Putting it in perspective, it's cheaper than a garden. So even if it's up to you to treat yourself, enjoy!
Odds are good that you can pick up a vase at Hobby Lobby like I did for $5.00. Odds are good that you can get flowers at the grocery store for under $10.00. Odds are good that flowers feed the soul.