What makes this a perfect pesto recipe?  It's not the ingredients. It's the storage technique.  I've seen lots of pesto recipes, perhaps even the one you use.  I encourage you to use whichever one you want.  But be sure to use this storage technique if you want pesto throughout the year.
Got no basil?  Try your local garden center.  We were at Goebbert's last weekend and they had lots of pots of basil that hadn't sold.  Big and beautiful.
Pesto
2 cups basil, tightly packed fresh leaves
1/2  cup olive oil
1/2 cup grated Parmesan cheese
1/2 cup parsley, lightly packed fresh
1/4 cup pine nuts
2 cloves garlic, quartered
Place all ingredients (only some of the olive oil) in food processor.  Process until mixture is finely chopped but not mush.  Add olive oil as needed.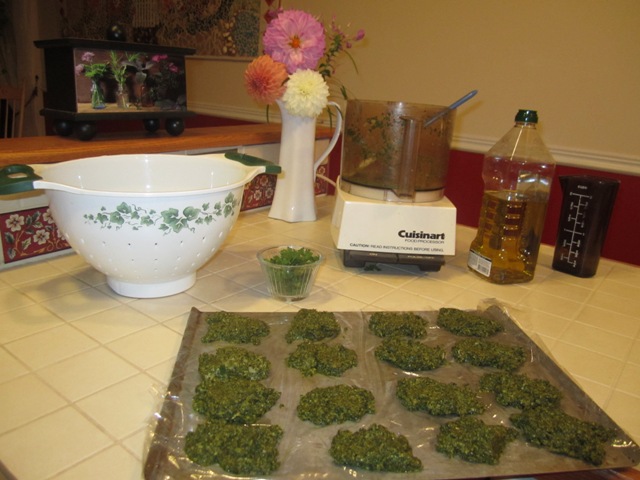 The perfect storage technique, shown here with a triple recipe:  Line large baking sheet with plastic wrap.  Drop pesto by large tablespoonfuls onto plastic wrap.  Cover with another sheet of plastic wrap.  Freeze until firm, about 2 hours.  Remove pesto patties and place in freezer container.  Cover and store in freezer up to 1 year.