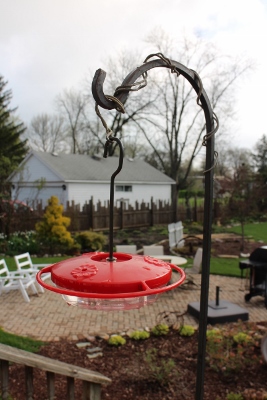 I put out my hummingbird feeder today. It is early, but I suffer from intense positivity. I also suffer from internet exposure. Fortunately, the internet resource is a reliable one. You too can go to Journey North to see that the first hummingbird in our Chicagoland area was reported on April 16th.
Journey North noted "Hummingbirds surge north on the winds, making 2016 an early migration season." So out went my feeder. I get credit for even finding it this early. I filled it with one part sugar to four parts water. Of course, I didn't add any red dye. I did heat the water enough for the sugar to dissolve easily. The extra mixture went into the fridge, where I can keep it for up to 2 weeks. I won't have to change it often during this cooler weather, but in the summer heat it can spoil outside in just a few days.
Journey North was a learning experience. Whooping cranes crossed into Wisconsin last week, monarchs are nowhere close to Illinois, and whale babies are in the final phase of migration in California.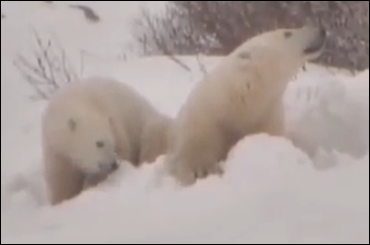 A link on the Journey North site took me to Explore, which turned out to be quite the cool site. Literally cold according to these polar bears that we watched on Cape Churchill, within Wapusk National Park (NP) in northern Manitoba.
Hmmm…the hummingbirds aren't here yet, but then neither are the polar bears. I'll gladly wait a bit for the one and enjoy the other vicariously while appreciating the relative warmth of our Chicagoland spring.