"Those who can, garden. Those who can't, color."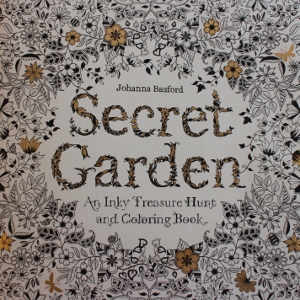 Perhaps that is not exactly how the quote was originally written, but it is still true. So though it's a bit chilly (OK, frigid) in Chicagoland, I can still add color to my not-so-real garden. Coloring books for adults are a big thing right now. Really. I got my Secret Garden (Johanna Basford) coloring book at Angelina's in Barrington, and coloring books for adults are popping up everywhere – even Costco.
I spoke on Creativity at the Buffalo Grove Garden Club a few days ago, and asked if anyone besides me had a coloring book. I'd say 6 others raised their hands. Then I get home and see that my friend Cathy posted on FaceBook about her coloring book, Meditative Coloring.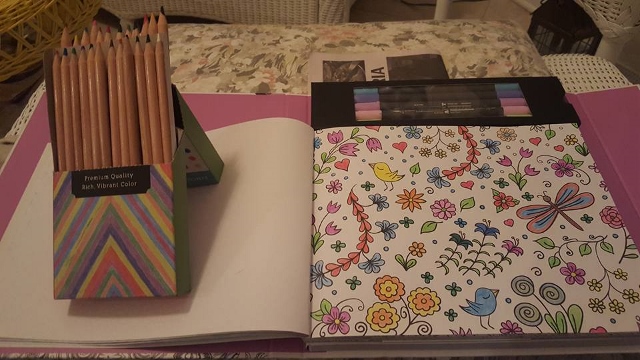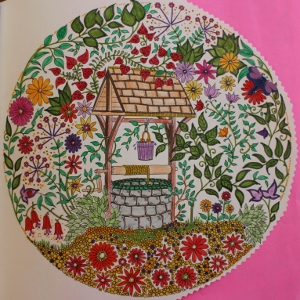 This trend is also good for marker sales, though not necessarily your pocketbook. I bought Pitt artist brush pens at Blicks. They weren't cheap at $3.29 each, but the points are very fine, and so far they are staying that way. I could have spent way more than that, but you can see that these are doing the job beautifully. My 6 year old granddaughter, Allie, was very envious. We colored together last week in Fresno, but at those prices, Grandma's markers were off limits to her. She was still kind enough to let me use some of her colored pencils. I gotta get me some of those. They'll be cheaper than the markers, so I can get a whole bunch! You can also see in the picture I've been playing with my scissors.
Cathy has both markers are colored pencils. You can see in her picture below that she has gone for a softer look, and has done some enviable blending on the orchids.
Officially, the 15th is the day that garden bloggers post about their garden blooms. I'll admit mine were a bit sparse, so I've instead provided this art therapy option to get the garden-needy through the winter. Do you want to see what is going on in the January garden? Visit May Dreams Gardens – Bloom Day for Garden Bloggers' Bloom day entries.