Date and nut cookies are a favorite at our house. You'd expect it to be chocolate chip or gingerbread men, but the unlikely winner is date and nut. I haven't done much holiday baking yet, but we are already enjoying the delicious date and nut cookies.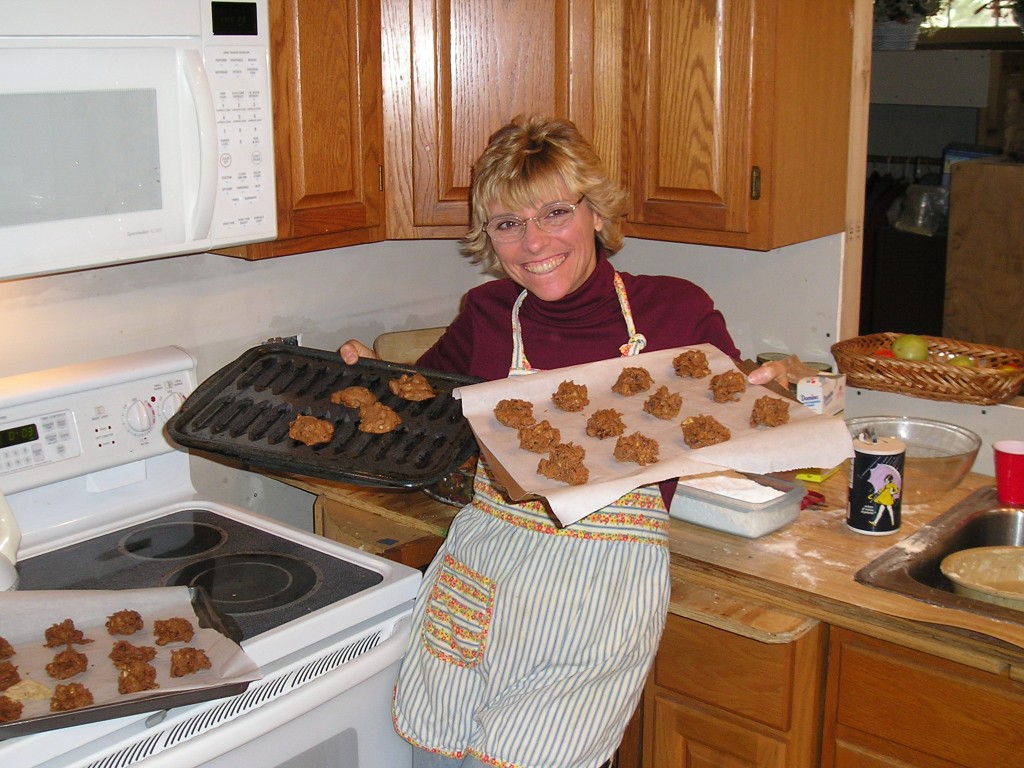 1 c salted butter
1 ½ c DARK brown sugar
2 ½ c flour, unsifted
2 c dates (10 oz), cut in pieces
(Freshest if you buy whole
pitted ones and chop them
yourself into kinda small
pieces.)
2 c walnuts, cut in pieces
3 eggs, slightly beaten
1 t baking powder
3 T cinnamon
¼ t salt
1 t honey
1 t pure vanilla extract
1 t pure almond extract
(Parchment paper is optional, but nice.)
Chop the dates, (getting rid of dry ones), also leaving them rather large – about 6 chunks per date.
Mix flour, cinnamon, salt, baking powder.
In large bowl, cream butter, add brown sugar and mix till fluffy. Add beaten eggs one at a time. Add honey, vanilla, almond. (All ok to do in mixer, but do not overmix.)
Add dry ingredients to wet and mix thoroughly.
Add dates and nuts and MIX BY HAND. Still do not overmix!
No liquid is used. Batter should be stiff. Drop from teaspoon onto greased pan (or pan with parchment paper) and leave it in a lump. (See picture for size.) They don't spread out much at all. (See picture – the ones not on parchment paper are baked.)
325 for 18 minutes, or 300 convection for 14 minutes. They are done when the bottoms just barely start browning. DO NOT OVERBAKE!
Freeze nicely. But don't wrap them till totally cooled.
Makes 4 dozen