Morton Arboretum's Illuminations isn't your typical Christmas light show. No ho ho ho Santa. No Candy Cane Lane. No lighted dancing elves, plastic snowmen, Snoopy decked out for the holiday, or toy soldiers.
No reason to go then? Not so! Illuminations is a sensory treat you don't want to miss.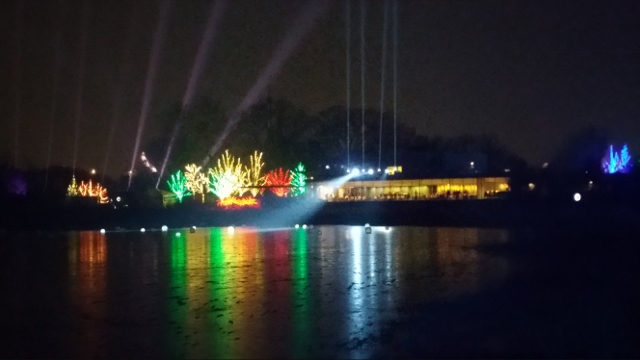 It's this…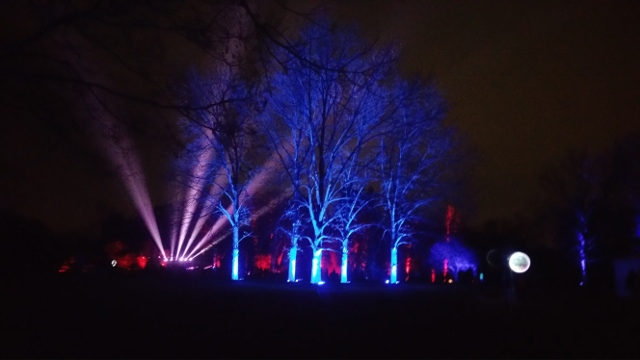 And this…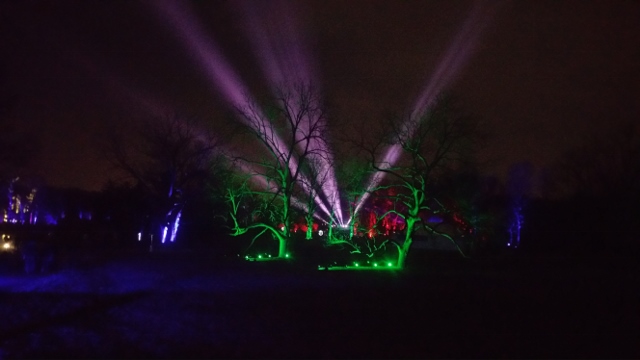 And this…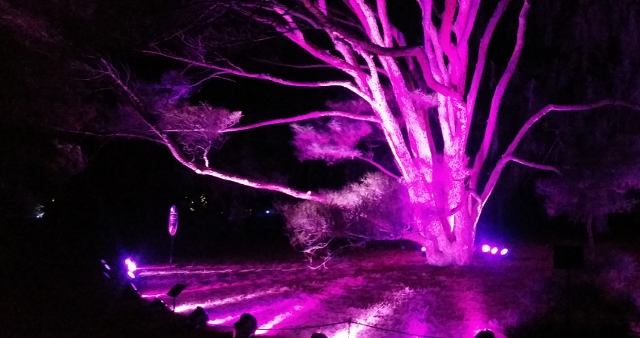 Illuminations is filled with magical moments for all of your senses.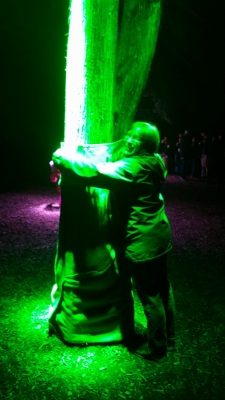 Hug a tree and the light color changes, with green nicely demonstrated in this picture with my friend Regine.
Sing to a tree, and it provides a light show.
Savor the chili at the Ginkgo Restaurant. Maybe even catch live entertainment inside or out.
There are also musical memories to be enjoyed outside at Symphony Woods, as the tree lights dance to the Chicago Symphony Orchestra.
Illuminations is a joy for young and old. Mike and Regine consented to go because it was official "Be Nice to Carol Day", so I got to pick. I ordered our $12.00 tickets on-line. It was a fun hour and a half. Even 'Mikey' liked it, as you can see from this picture in the gift shop. OK, so you can't tell that from the picture. You'll have to trust me.
What you can tell from the pictures is that Illuminations is amazing.
Morton provides options to keep you warm during the mile long walk along the lake. They have fires, heaters, tents, even s'mores and hot chocolate with Peppermint Schnapps.
Don't let the cold stop you. The experience will warm your heart.
A Christmas tree tip from Mike: It's always hard to tell if the tree needs water or not. You have to get up close and personal to the tree stand to see the water level. Mike put a few pieces of easy to see Styrofoam in the stand. If they float high, the level is good. If they aren't floating at all, run, don't walk, for the watering can.