It's not that there isn't color in my yard already. It's just that most of it is green right now. Don't get me wrong. After a long Chicago winter, green is good.
For example, these sedum are green, and that's good. I sure wouldn't want them to be brown at this point.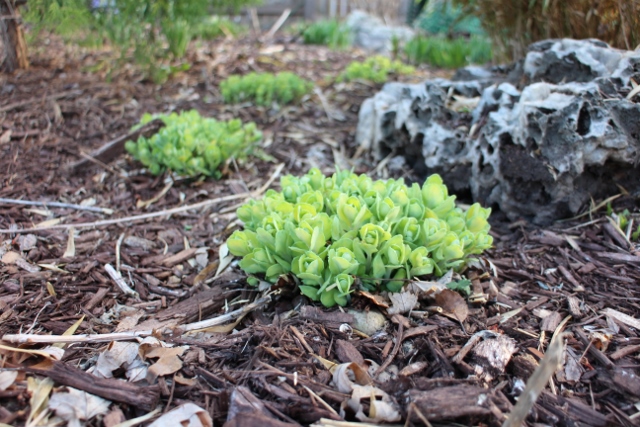 And this daffodil. It's a vibrant yellow that I can see from across the yard. I can also see it is rather lonely out there. You can't, but I can.
So I decided to assist Mother Nature. I went for instant gratification. I went for painting. Painting certainly qualifies as instant gratification. I love that I can start with something too ugly to photograph and turn it into this in just a few hours, including scraping and priming. Add 15 more minutes and you'd have seen a finished product here. But I'm going to leave that for your imagination. Just know that it did turn out lovely. Mike and I got that fence on our honeymoon many years ago, and I wasn't going to let the ravages of time take that memory away from me.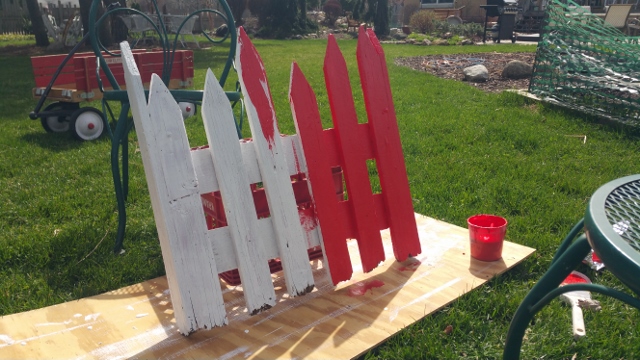 If you want the instant gratification of painting something fully, you are gonna have to do that yourself. I can help though. From a distance that is. And rather figuratively. None-the-less, I can definitely help.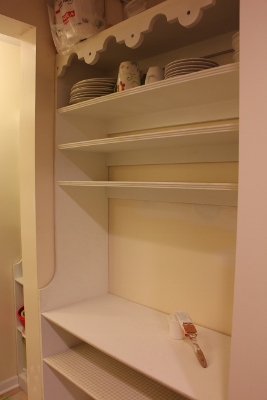 We'll call this technique 'Painting Renee Style'. Renee wasn't really here to paint with me, nor have I ever remotely had anything to do with both Renee and painting together. But I know Renee. Rather, I knew Renee. Back in high school. Suffice to say that was a long time ago. A time when we were majorettes and we had these basic white blouses under our cute little purple jumpers with the big gold 'S' for Schurz on it. Renee only ironed the part that showed. I didn't get it at the time. I get it now. And I bet she'd be proud of me.
Last week I painted my pantry. And you can bet your ironing board that I only painted the parts of the shelves that show. So please don't lay on my pantry floor and look up. And that red fence, well, if you lay on the ground you'll see that parts of it aren't painted. So don't do that either.
The Renee Style went further than ironing. When we had to do a gym routine to music, she picked the shortest song she could find. And when she designed a majorette routine for us to do on the football field, we each got to do a solo baton toss during 'One is the Loneliest Number'. Easier for her and fun for us. Ok, it was actually scary for us, but I can't admit that.
Mother Nature shouldn't be needing my help much longer to decorate the outside in brilliant color. Till then, I'll enjoy small pleasures like this crocus.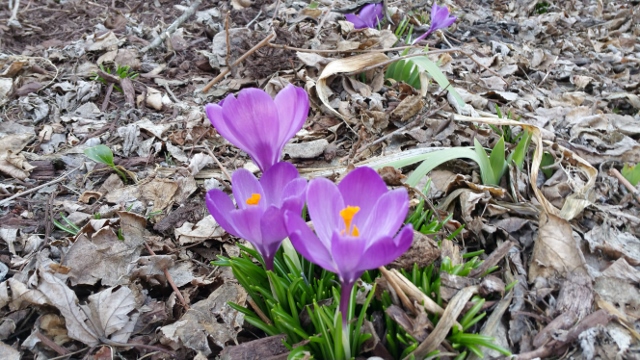 And these hyacinths.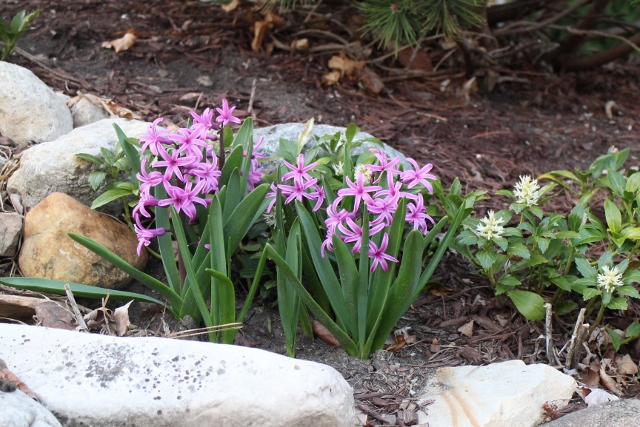 Maybe not these green weeds in the dahlia garden.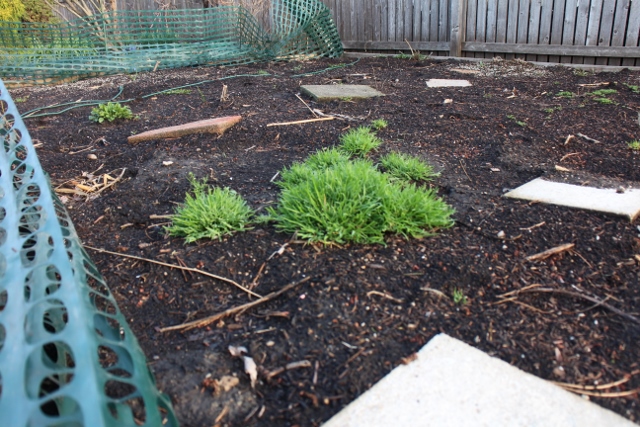 I enjoyed fresh green chives on a baked potato last night. Yep, green is a good color.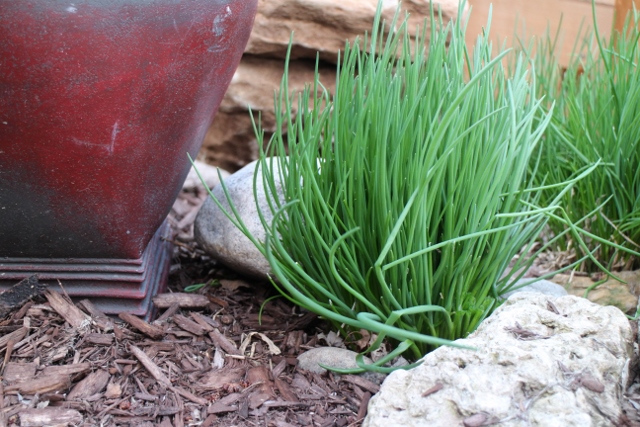 Do you want to know what else is blooming in the April garden? To see what other bloggers have blooming on the 15th of every month, visit May Dreams Gardens – Bloom Day for our Garden Bloggers' Bloom day entries.