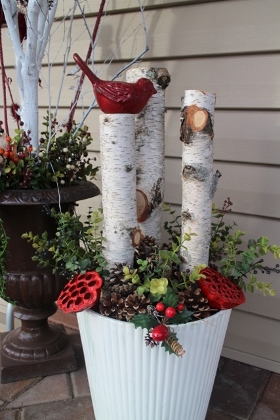 I've made winter containers before, and they were nice. However, they were not even in the same league as Patrice's. Patrice has the creativity gene. I think she also got the creativity genes that were supposed to be allocated to many others. Take the container to the right as a fine example. Well, don't literally take it, because Patrice would be very sad to find it missing. It would probably take her all of two minutes to make something bigger and better with items she would find in her junk drawer or wastepaper basket, but let's not put her to the test.
The birch branches are lovely, aren't they? And she's drawn your eye to the top with the ceramic bird. Nicely balanced on the bottom she has repeated the red and brought in some green for contrast against the white planter. What I like best about this planter is it is not Christmas themed. This one can stay out for the duration of winter.
Last winter was a bit different at Patrice's. Actually, I think every day is probably different at her house. Take this bench for instance. Now come on, you should know by now that I don't mean it. Please don't take her bench. It was decorated for Valentine's Day, then for St. Patrick's and other holidays. I know how Patrice works. Nothing was purchased at full price, or even close. It's easy to be creative when you can spend money. Patrice does it without. (Reference above: Junk drawer and wastebasket.)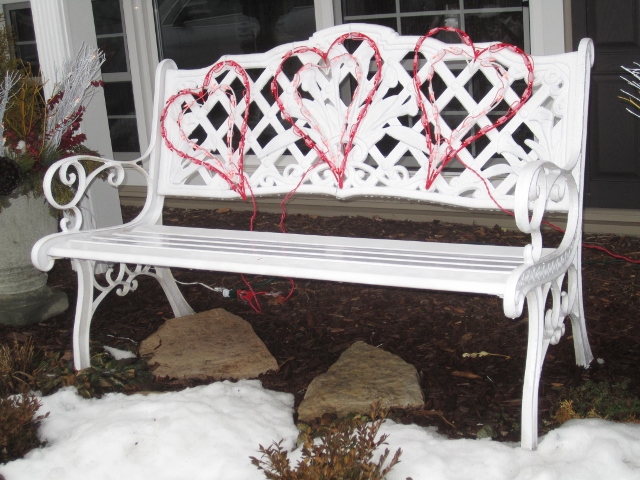 Flowers in bloom haven't quite left her enclosed porch. Perhaps it's a bit chilly out there to enjoy them right now. Perhaps not as we do have a few degrees here in Chicagoland and we're tough.
Speaking of things that haven't quite left the porch and being tough…I've got to go now as its time to water my plants outside.