Invasive only begins to describe goldenrod. An accurate description would need some adjectives; highly invasive, completely invasive, utterly invasive. Think of the kind of invasive that Attila the Hun was. That is the kind of invasive that Goldenrod is. Drive by a local forest preserve and you'll know what I mean. Goldenrod will not share the late summer expanse of field, it will usurp it. Goldenrod stands tall and wide. Of its territory, Goldenrod says 'I WILL have it all.'.
Not all goldenrod has such bad manners. Mine wasn't invasive at first, and some of it still isn't. I had Solidago Fireworks planted in two places. One has stayed in a nice clump and gets about 3' tall. The other, well, something went awry. Its 6' tall and everywhere. Trustworthy is apparently not a goldenrod quality. At first it was rather impressive as a companion for the Sneezeweed.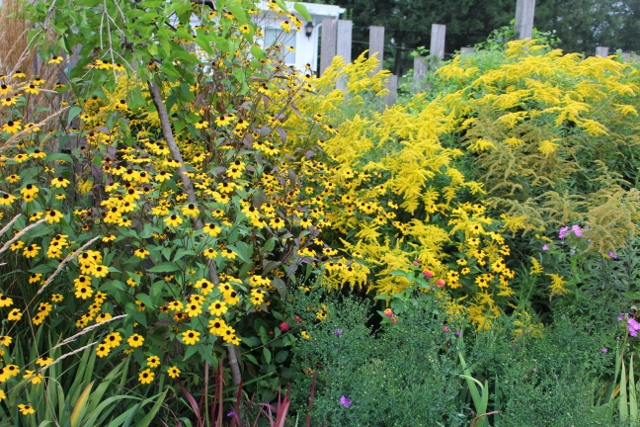 Then it was done and flopped all over the place. Not so impressive. I'm not going to show you that embarrassing picture.
Mike said it should go. I said no. I was wrong. (He likes to hear that so I'll say it again.) I was wrong. After much effort on a humid day, I had three garbage cans full of Goldenrod and an empty canvas where overgrown had been. Oh, so empty. So empty that when I was done moving Karl Foerster grass from nearby and planting three new Vanilla Strawberry hydrangeas that I even used a mirror on the back fence to make it look more full.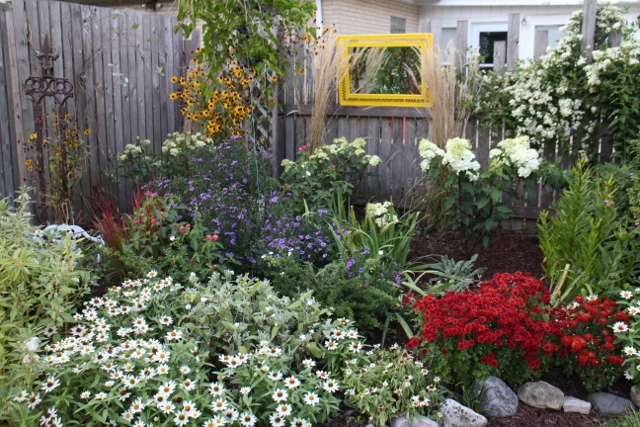 Brilliant! At $12.50 from a garage sale, the mirror reflected nicely on my ability to have an impactful new vignette at a very reasonable price.