You've seen this mosaic at the top of my blog. It's my trademark, my brand, and yes, my kitchen wall. It was also a 3 year project, often ignored for quite a while until inspiration struck.
Sometimes it wasn't inspiration as much as persistence. Michelangelo, the artist who painted the Sistine Chapel, is quoted as saying "If people knew how hard I worked to get my mastery, it wouldn't seem so wonderful at all." I don't know that anything could make me fully agree with that statement, but I get it, especially after I look back at the time consuming creative process for my mosaic.
It all started out being Lynn's fault. She wanted 'us' to take a mosaic class. The 'us' turned out to be 'me'. I already knew how to break plates, and Mike sure knew how to grout. Once I got to class, I was so not interested in making a trivet, and the idea of a mural was birthed. Fortunately, I never even considered that I could fail. It was kind of like Elle Woods in the 2001 comedy, Legally Blonde, waking up one day and deciding she would be a lawyer.
In that first mosaic class, I looked forward to having some guidance in the design. But wait – the design part was up to me. Oh no! Quoting again, Salvador Dali this time, "Those who do not want to imitate anything, produce nothing." Even without those words to guide me, I knew I had research to do, so research I did.
Yep, Salvador thinks the key ring holder (below left) looks familiar. How true! It's from Polymer Clay Mosaics by Krista Wells. Our kitty, Whiskers (below right), was a pattern from The Mosaic Idea Book by Rosalind Wates.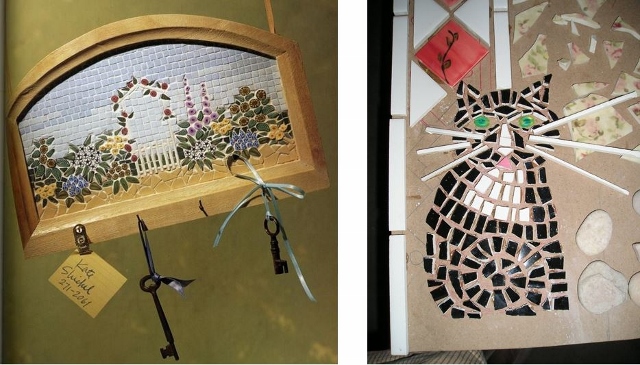 Mike and I made the tiles for the border, with inspiration from Plaster Mosaics by Kristen Peck.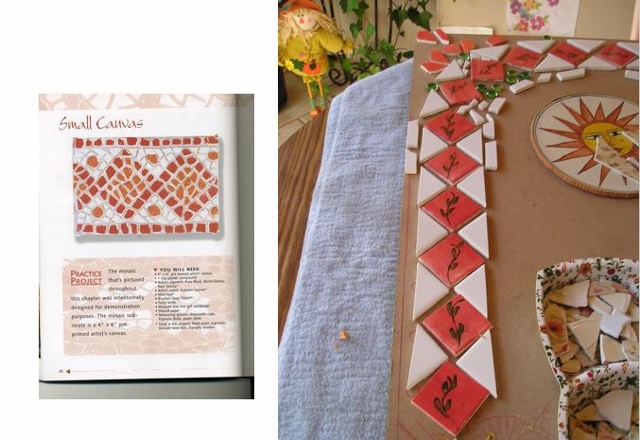 Perhaps I was more like Pablo Picasso who wrote "Good artists copy, great artists steal."
The more I thought about it, the guiltier I felt. Could I take credit at all? Mark Twain says I can. Actually, he said Hellen Keller could take credit for her work when she was sued for plagiarism. I think he meant these words for me too: "When a great orator makes a great speech you are listening to ten centuries and ten thousand men — but we call it his speech and really some exceedingly small portion of it is his."
So feel free to create using other people's ideas, molding them into that which is uniquely yours. Trust in yourself, because Michelangelo is right when he says "Faith in oneself is the best and safest course."
Back to our original question: Was Michelangelo really any more creative than you are? May you spend your whole life answering that question. And on your last days, may your be blessed to say, as he did, "Many believe – and I believe – that I have been designated for this work by God. In spite of my old age, I do not want to give it up; I work out of love for God and I put all my hope in Him."