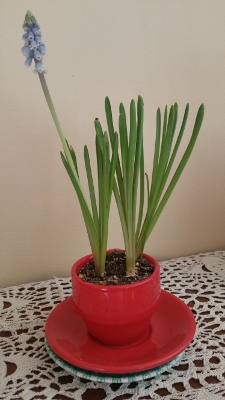 February 22nd and we have our first bloom! A high temperature today of 20 and pa-lenty of leftover snow gracing our Chicagoland garden were no deterrents to this determined grape hyacinth.
Nestled in the comfort of our kitchen, recently moved from the garage in its cute little cup, it took about a week for the emerging sprouts to send out the first flower. How does it do that? I don't really want to know - the question is rhetorical. But it still surprises me when a bulb blooms. I know that is what bulbs are supposed to do, and of course, I plant them with that expectation. Yet when it actually happens, I am so impressed.
I planted hyacinth bulbs in plain old water for Christmas gifts, and they are blooming too. Pictured here three weeks after I planted and left them in my garage, the root structure was strong. We kept the water slightly short of the bulb itself and the roots were smart enough to find it. I babysat them till Super Bowl Sunday, and Kathy tells me hers are blooming. Again, I know that is what bulbs are supposed to do, yet again surprised.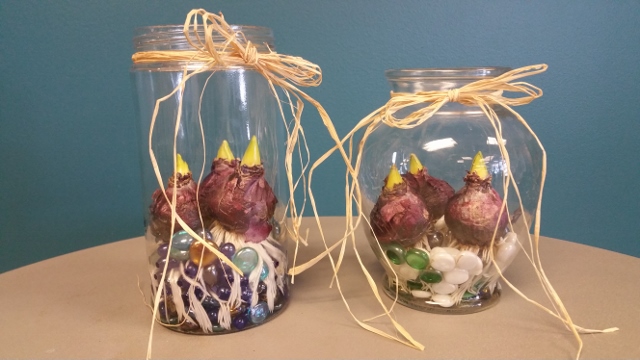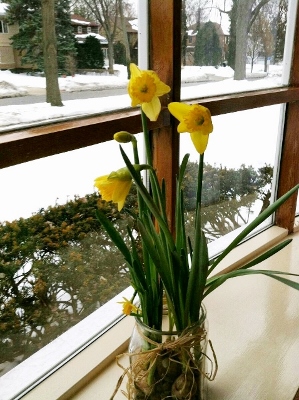 It keeps on happening. I planted Jackie's daffodils on Christmas morning. She kept them in a cool place till about 3 weeks ago and yes, she has blooms.
Gardening skills or not, we are enjoying our flowers. We may be surprised, but God isn't. What a reassuring gift on a cold winter morning of who is in charge.