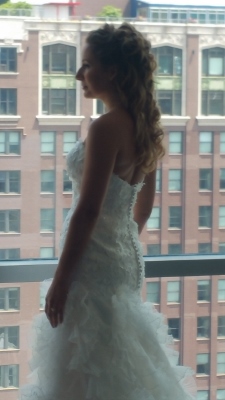 I have a new-found respect for floral designers. A well-earned one I might add. Just over a year ago, I was honored to say yes to Heather's request to do the flowers for her wedding. The catch is, Heather was marrying my son, Kevin. That makes me the mother of the groom. It was very much in-character for me to say yes. It was very much out-of-character for me to admit that just perhaps, just maybe, this task was a bit ambitious. Fortunately, I did admit that. As it turns out, it was more than a bit ambitious. It would have been absolutely CA-RAY-Z for me to do it on my own. Little did I know that when my friend Sue, Heather and I met to look at options, it would truly be an adventure.
Sure, I have flowers, lots of flowers. Lots and lots of flowers. That is why saying yes to Heather's request was even remotely possible. And many of those flowers have graced tables in vases. But this, this was going from backyard touch football to the Super Bowl. Should you do this? Should you do flowers for a BIG wedding? Read on.
Better start with a mellow bride. Heather – check.
Better have someone who has been there before. Floral designer and friend Sue – check.
Better have a mother of the groom (mother of the bride, sister of the bride, insert your relative here ____________) who doesn't know any better. Me – check.
We got together last July, surveyed the yard to see what Heather liked, and started planning. Enter Pinterest. Cuz not all brides like the same thing. Duh. And it's her wedding. Duh. Pinterest gave Heather a forum for sharing her likes. We saw lots of white and gold and bling. I, of course, started doing what I do best. I went shopping. Think about it, a gardener, on a mission, who gets to go out and buy things for her garden on the premise that it's for the wedding. Woohoo!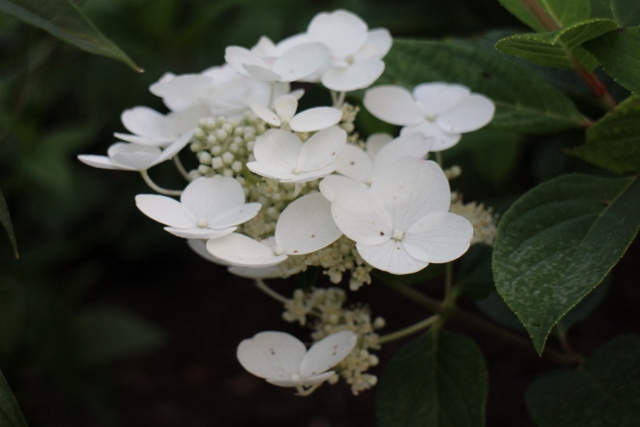 The planning continued…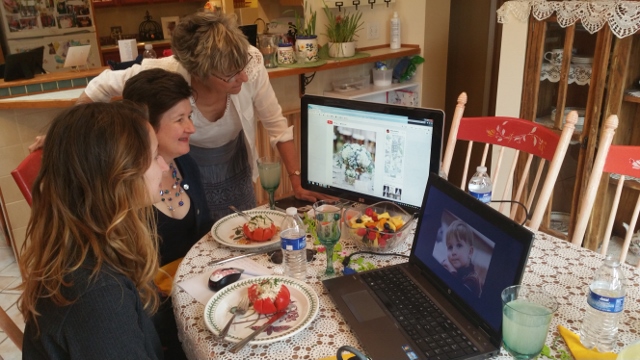 The shopping continued. So much so that my basement started to look like the backroom of a floral shop, overflowing with supplies for the 15 tables. Oh, there were more supplies, two more tables full, because there were also 4 head table arrangements, bouquets for the bride and 6 attendants, a flower girl, church pews, patio tables, the bar, 4 corsages, and 15 boutonnieres. Did I mention CA-RAY-Z. Oh, and no two alike. Add to the checklist: a basement. This stuff has got to go somewhere.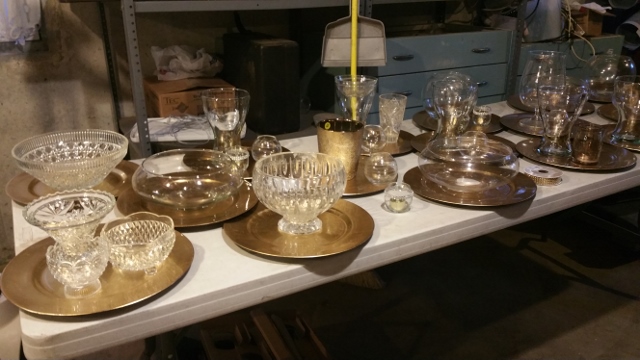 Spring came and I got to go shopping again! Now its the wedding garden of annuals I'm shopping for. A garden we are trying to plant. Trying to plant during one very wet spring. Trying to plant when I spent 5 out of 6 weeks out of town on business. Add to the checklist: stress. Plan well to avoid stress. Plan on having stress anyway.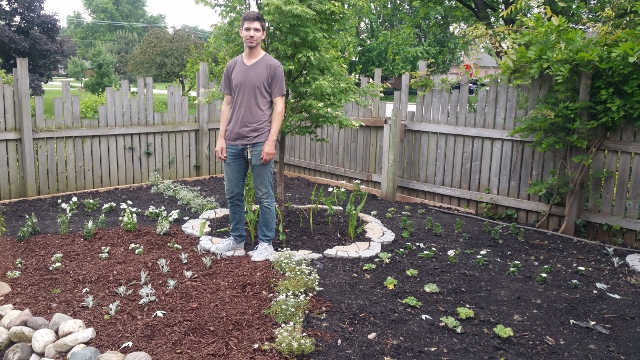 What helped me through it? I knew that God sent me Sue when I needed her. That was just a year and a half ago. He sent me the most creative person I know, a dear friend with a floral design background so that she knew what questions to ask Heather, and how to make it happen. She was the person with wholesale connections in case this was the year my garden didn't produce. A coincidence? I don't think so.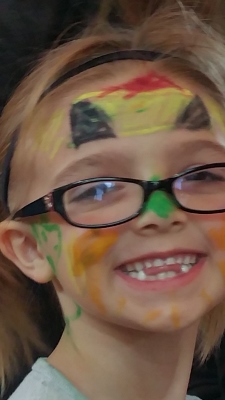 Plus, I'm contracting again, which gave me immense schedule flexibility. Add to the checklist: time. Your time, your husband's time, your florist and crew's time, even your friend's time when all of the above isn't enough. Because it isn't enough. You either set your sights lower than we did, or you rise. Well, we decided to rise.
Let's go back to I'm the mother of the groom. I was going to enjoy out-of-town company – this wedding was not going to keep me away from my son John and his family visiting from California. We are talking grandkids here, like Allie, who you see to the left. I was going to say yes, when Kevin, aka groom, wanted to learn to dance (even just a bit) two days before the wedding. And I was going to run the rehearsal dinner for 40 people at Heather's Godmother's house (with her family's help fortunately).
Most of all, I was going to enjoy the moments. Enjoy I did. I really did. It was magical and memorable and mine to remember always.
Was the amount of time needed immensely more than I thought. Yes, yes, yes. Were the flowers beautiful? Amazing? Admired? Yes on all counts. But nothing, nothing, could outshine our wonderful bride. We are so happy to have you in the family Heather!
Oh, you want to see the flower prep and the results? Of course you do. I know you do, even if you don't yet know you do. You really, really do. But for today, it's all about Kevin and Heather. Love you both!