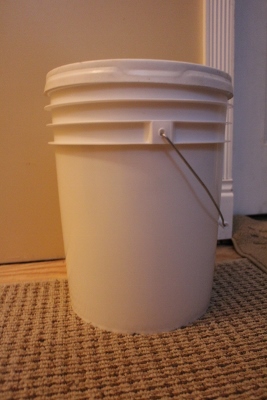 What is it about guys and buckets? I think if I asked Mike if he wanted a steak or another bucket, he would pick the bucket. His eyes would light up and it would be an oh so easy decision. Actually, that would be because Mike doesn't much like steak. But if he did, he would still pick the bucket.
I didn't have to go far when I wanted to take a picture of one of Mike's buckets just a few minutes ago. I didn't even make it as far as the garage when I found this bucket in the mudroom. If Dr. Seuss was here, I think he would say:
Buckets here.
Buckets there.
Buckets Buckets everywhere.
They're in the yard.
They're in the shed.
I think they're even under the bed.
I took a rough count. 5 in the garage, I have 3, the 25 you see here, and oh yes, the 28 that we are going to talk about today. But then who's counting?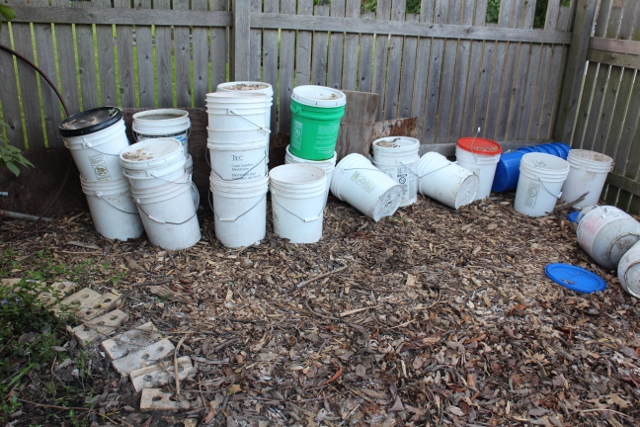 We also have a landscape trailer. As in so ugly that Mike thought he'd have to sleep in it when he dared to bring it home. I haven't wallpapered it yet. I threaten, but I haven't. I love our landscape trailer. I didn't say that on day one. On day one I said "What were you thinking?". Now we always seem to be using it to move something. Especially on days like today when I am planning to mulch. Our yard is big, and I don't like to weed. So I mulch. Actually, Billy and George mulch, but I digress.
The whole idea of someone dumping 10 yards of mulch on my driveway for me (or Billy and George, but I again digress) to then shovel into a wheelbarrow, move it far from the driveway, then take it out of the wheelbarrow is way too much work. Plus I'd have to look at the constant reminder of all that mulch haunting me as it sat on the driveway for all too long. Whether it was a day, a week, or a month, it would be too long. Granted, I instead get to look at the landscape trailer, but we aren't going to go talk about that.
Here is where the brilliance part comes in. Mike lines the trailer with buckets before he goes to Bertholds for mulch. They use a front loader to dump enough mulch in to cover the buckets. Not so much as to fill the trailer; enough to cover the buckets. Sure it overflows the buckets some, but I can live with that. And Mike can drive the trailer right to where I need the mulch. Then I (or Billy and George, but I yet again digress) can take the buckets out easily and do the mulching. When I'm ready for more, Mike can go get it. Whether its a day, a week, or a month till I need more, I don't have to look at leftover mulch.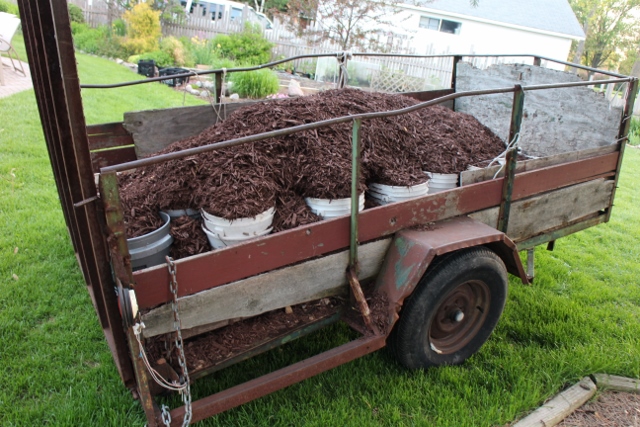 Speaking of brilliance, I get some credit here too. Getting a landscape trailer was all Mike's idea. Believe me, ALL his idea. Lining it with buckets was all his idea too. Having 2 strong neighborhood teenagers do the mulching (Billy and George, I want to digress), that one is mine.