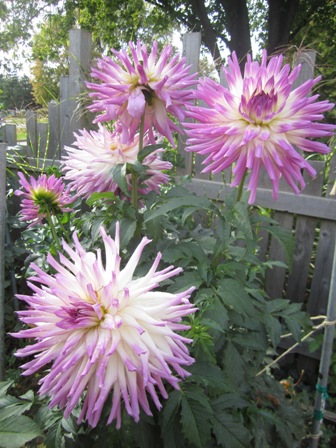 Oh yes, we will have dahlias for sale. The big advantage to buying them at one of the sales is that you are getting a plant, not a tuber. This puts you way ahead of schedule compared to planting the tuber outside in mid-May.
It's the same concept as annual flats – sure you can plant seeds outside in mid-May, but then you wait so long for them to look like anything. Dahlias purchased at a sale will start blooming some time in August and continue through frost.
They come in a variety of shapes and sizes, with plants typically over 3′ tall. You can plant them among your other plants, or have so many that they get their own garden. In our case, that would be two gardens. Yes, two gardens of just dahlias.
Some of ours are already outside hardening off.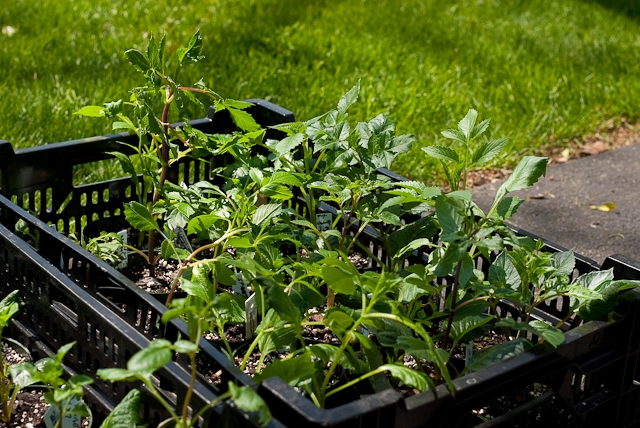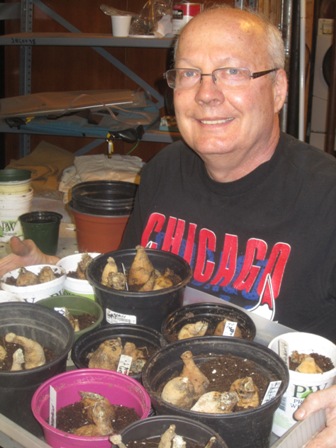 Mike started them inside in the middle of February. He starts with a million tubers (ok it only seems like a million). They get potted up, and they start sending up shoots. Each shoot becomes a plant. We were up to about 325 last week, and expect to have about 500 total.
Envious? You wouldn't be if you saw our electric bill. On the other hand, you would be if you saw his two dahlia gardens in the fall. I cut flowers pretty much every day, and still there is an abundance of blooms on the plants.
Take a look at the picture below. You can tell this is a man's garden – I guarantee you there are no cannons in my part of the garden.

Local plant sales that will have dahlias include:
Bloomingdale Garden Club Plant Sale
Mike and/or I will be there on Saturday, May 5th
9 AM – 2 PM
Bloomingdale Village Hall at 201 S. Bloomingdale Rd.
Central States Dahlia Society Plant Sale
May 5th & 6th
10 AM – 4:30 PM
Chicago Botanic Gardens
Rolling Meadows Hometown Plant Sale
I'll be there on Saturday, May 19th
9 AM – 2 PM
William D. Ahrens Building at 3200 Central Road
Elk Grove Garden Club Plant Sale
Mike will be there on Saturday May 19th
10 AM – 3 PM
Farm House Museum Campus at 399 Biesterfield Road
Central States Dahlia Society Plant Sale
Saturday, May 19th
10 AM – 2 PM
Kinsch's Garden Center, 301 W Johnson St., Palatine
If you are looking for sales outside of the Chicagoland area, let me recommend the Colorado Dahlia Society website.