Anticipation is what I like best about vacations. I'm not a 'Wow that's a great surprise – I'll pack a bag now' kinda gal. You've taken away half of the fun if I can't think about a vacation before we go. Nonetheless, if any of you are thinking of sending me a surprise all expense paid vacation, I will gladly accept it. I'm perfectly willing to try again and report the results back to you.
This week, I had another opportunity for anticipation. You may have read yesterday's In The Category Of I Think I Can. If not, I'll wait while you go check it out. You'll see that anticipation in regards to my hibiscus blooming has been going on for several days. I'm getting everything I can out of the anticipation phase on this one.
With that said, I am happy to report…
We have another day of anticipation ahead of us. Aren't you glad you stopped in today so you have something to look forward to tomorrow? I promise to keep you in the anticipation loop.
Hy, my hibiscus, is still in the 'I think I can' mode. His spirits are elevated, and he is proceeding according to God's plan in his delivery of a new bloom. For now, lets check on him with our hy-cam for an up-to-the-minute report on his progress…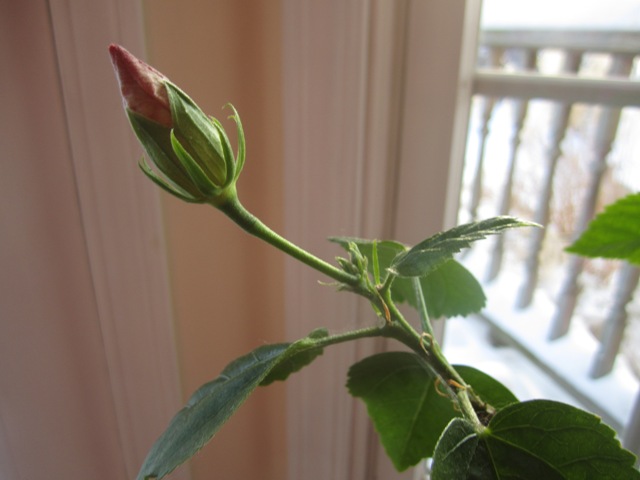 Please share the anticipation phase with me and I just KNOW Hy will meet his goals soon, and produce a lovely bloom for all to see.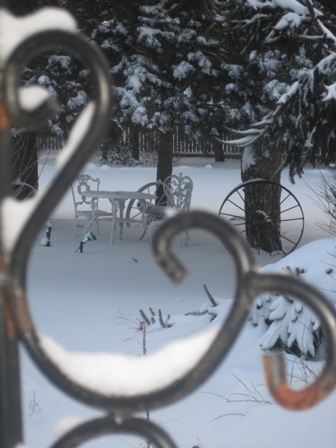 For today though, I'll have to defer the Bloom Day Category Excellence Award to warm sunny spots like Billy Goodnick's Santa Barbara area. I still contend our Chicagoland layer of snow makes for a beauty of its own, so Billy, here is my backyard view for you to drool over. Betcha Billy Goodnick would love if you'd send him plane tickets to Chicago, so he can come experience this beauty himself.
As for me, Mike and I are off to Morton Arboretum, for an inside breakfast with a stunning outside view.



Do you want to know what else is blooming in the December garden? To see what other bloggers have blooming on the 15th of every month, visit "May Dreams Gardens – Bloom Day" for our Garden Bloggers' Bloom day entries.