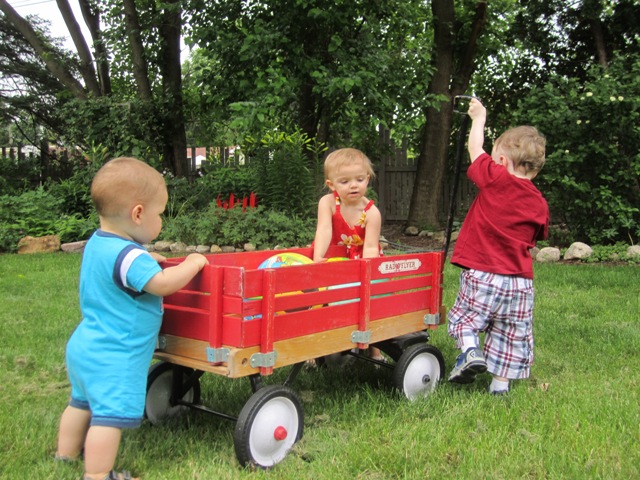 Did I make a mistake? This picture looks like kids having fun. Nothing to do with Christmas. Nothing to do with gardening. But wait!!! Might not this same wagon be so perfectly sized that you can put a gardening basket it, as well as a bucket or plants, and still put a shovel or two on the side? Why yes, that does seem to be the case.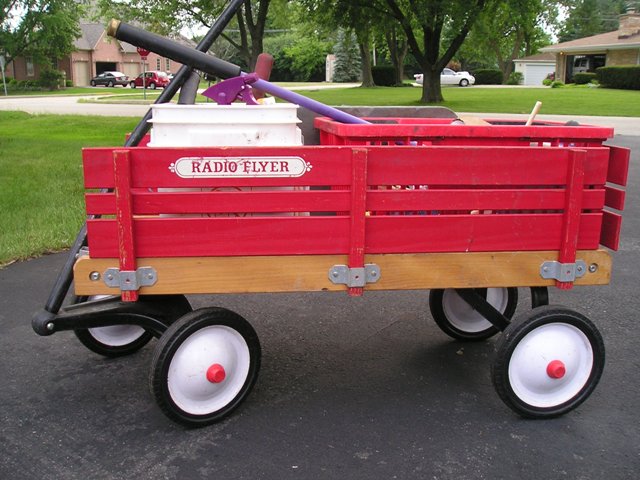 Note that the Radio Flyer Town & Country has nice big wheels for rounding corners without turning over and dumping your precious cargo (whether that cargo is children or gardening items). It also has removable sides to keep your options open for something that is too heavy and/or large to fit when the sides are in.
Radio Flyer had their humble beginning right here in Chicago, and their home office is still here in Chicago.  Antonio Pasin's story is a story of American innovation.
Founder Antonio Pasin was 16 when his family sold their mule to help pay for passage from Venice to America.
In 1927 he wanted to make wagons affordable — "for every boy and for every girl".  He switched to steel for much of the construction and adapted mass production techniques from the auto industry.  He named the new model the Radio Flyer after two major advances of the time, radio and manned flight.
His company was already the world's largest producer of toy coaster wagons during the great depression of the 30's. 
In the 1940's, America was at war.  All wagon production from 1942 – 1945 was replaced with the manufacturing of five-gallon steel "Blitz Cans" for the war.
Oh there's more.  Radio Flyer is proud of their heritage, and it's fun to read about this slice of Americana on the Radio Flyer Timeline page.
Here is the wagon Antonio Pasin introduced in 1923: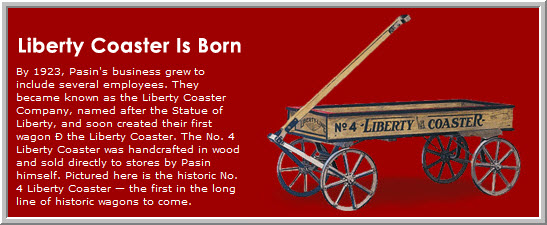 Radio Flyer has grown during their 95 year history, making bikes and trikes, scooters, ride-ons, horses, as well as a wide variety of wagons.  Yes, Antonio's wagon has become iconic for children.  Maybe its time for his wagon to be iconic for gardeners too.
Want more ideas for Christmas gifts for gardeners? See Christmas Gifts For The Gardener – Foxgloves and Christmas Gifts For The Gardener – Vases, Defined.  Or come back next week and we'll see if I can come up with an idea that hits home for you.