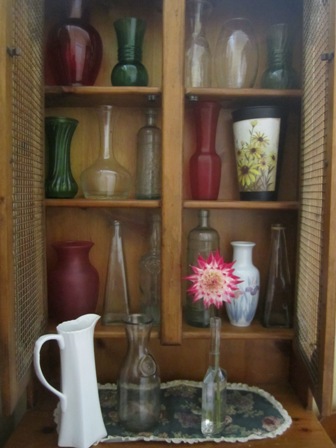 Two postings in one day; amazing.  I just finished writing about a lovely rose. Now let's move on to Christmas Gifts for Gardeners and talk about vases.
I'm afraid that my hutch is all vased up with nothing to show.  Soon, the vases will all move down to the basement till spring, replaced, sadly, by hats and gloves. Even the lone dahlia pictured here is really a thing of the past. The picture was taken a few weeks ago and that last dahlia of the season has gone from treasure to trash.
Ah, but when my flowers bloom, it's vases of flowers to friends. Vases of flowers to family. Vases of flowers to co-workers. Return the vase and someone else will get flowers. That is until I run out of vases while more find their way back home.
If you know a gardener like that, or even a gardener who brings flowers inside for themselves, they might really enjoy the right vase. You see, most of us gardeners have vases, but they are not the vases we want. We've got the bud vases that come with a single rose. We've got the basic big clunky ones that come from the florist. But neither is right for everyday.  So what makes a vase not too big and not too small, but just right?
This is my idea of a perfect vase: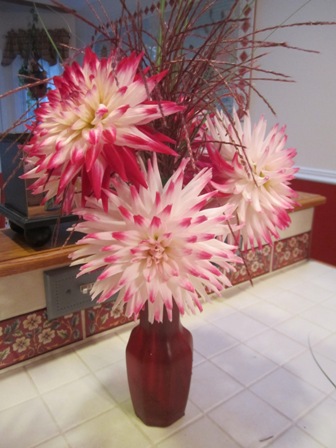 The opening is bigger than the bud vase, and smaller than the florist's vase
It complements my flowers; does not overwhelm them
It is well enough weighted to not topple over when a heavy flower is placed in it
The red vase you see to the right is perfect for me.
Certainly, there are exceptions to every rule.  For example, small mouthed vases may work well if a gardener has several of the same or complimentary vases. You may have noticed the collection of green glass vases in the picture of my hutch, above. I can make a nice arrangement with those.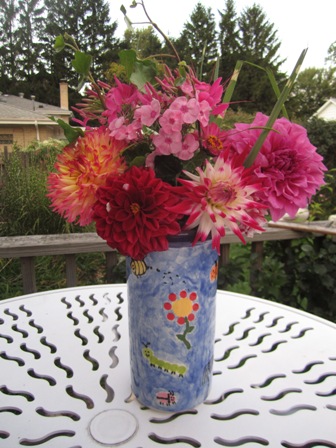 There is even an exception at our house to the big and clunky rule.  If I have a large grouping to display, I have this vase that John and Heather made.  They wrote 'Mom's love bugs' on the back.  So cute.  You could personalize a vase!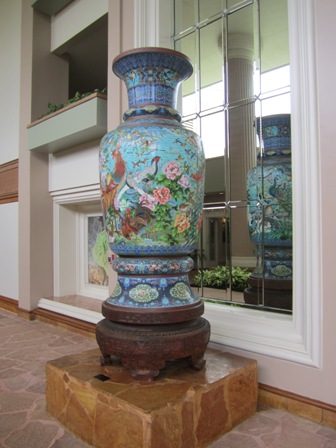 You can buy vases in any price range. This one could be for the shopper with the urge to splurge.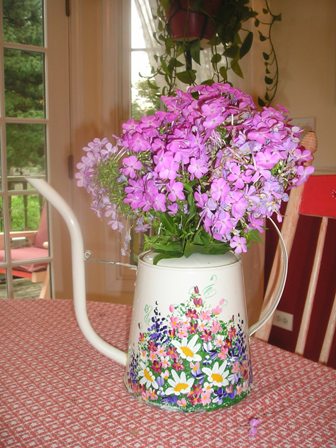 Many of mine are a bit more modest, having been acquired at garage sales and resale stores. You can take the kids on a trip to Goodwill and they can very carefully pick a vase to buy with their piggy bank money. You are even helping to save our planet by reusing and recycling.
Take it a step further and repurpose. Look at this favorite vase of mine. Ok, it's not really a vase, its a watering can. Get creative, because a beautiful waterproof container by any other name is still a vase.
Want more ideas for Christmas gifts for gardeners? See Christmas Gifts For The Gardener – Foxgloves. Or come back next week and we'll see if I can come up with an idea that hits home for you.