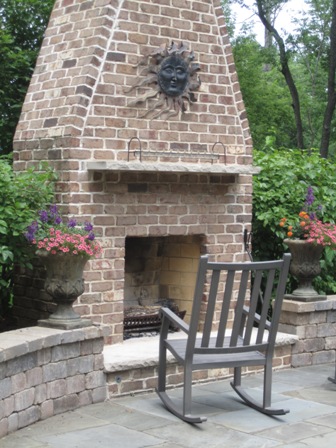 We have been to some magnificent gardens lately. Should I write about the one in Barrington that had waterfalls and ponds, a forest-like backdrop, and this idyllic fireplace area? No, not yet.
How about the garden you see below? That doesn't look like a garden to you? That's because this 50 acre site, with a 2 acre prairie, was way more than a garden. It was a piece of history, complete with a captivating collector as a host. He himself was a piece of history, and he had a building full of great local memorabilia. I have lived in Chicagoland my whole life and didn't know that Elgin had been the dairy capital of the U.S. I fully intend to tell you about it…later.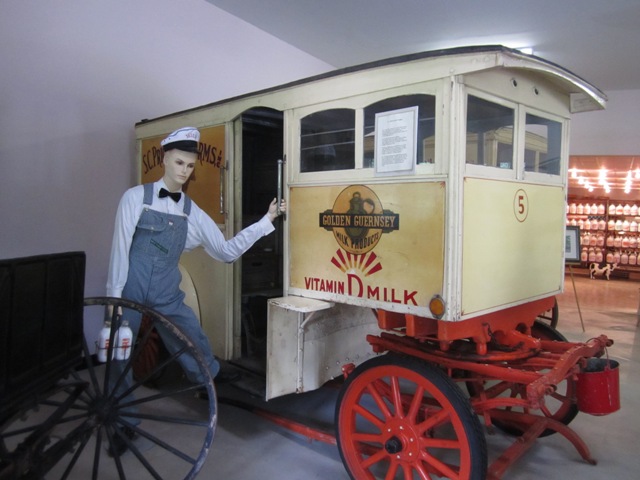 All those interesting topics and I instead decide to write about frogs. Yep, frogs. I want a frog. I've wanted one before. Mike saw to it that I got a tadpole, a tadpole who later did morph into a frog. We only saw him that year.
Mike will have to work some more magic next year so we can try again. The magic will consist of making a frog-friendly environment. That is supposedly what it takes to get a frog to move in. I've read that before and now I've read it again. Margaret at A Way to Garden wrote that the 'frogs add themselves' to her instant water gardens.  And About.com says 'Build It and They Will Come'.
So what is a frog-friendly environment?  About.com lists some requirements that will be easy for us to meet: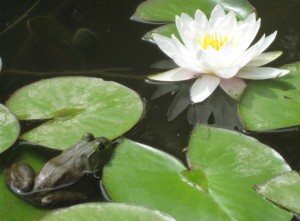 Frogs need easy access to water.  Not deep water, but something that includes a shallow spot for them to climb in and out of.
And plants in and around the pond.  I can do that.
Chemical free – a given.
I can even keep it 'not too clean' which will be more natural for them, and easier for me.
Extra shelter – sure.  I can dig through my shelves for a clay pot to pot on its side.
Some of the requirements are going to be tougher.  Maybe we'll think of them more as 'guidelines' that don't need to be strictly followed: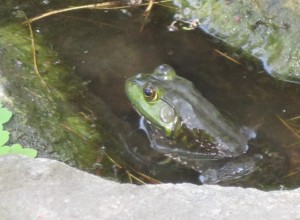 Fish – no fish.  How can you tell me no fish?  About.com says they'll eat my tadpoles.  I don't know how we're gonna work that one out, but fish and frogs co-exist out there in the wild.  Same for other animals – my frogs are just gonna have to make friends.  Margarets writes that hers did.
Quiet, still water.  Just when we were thinking about making a real waterfall next year.  Margaret said not to worry.  She wrote me that small "falls" (really just outlets from the pump/filter) in both of her pools are loved by the frogs. They even sit on the spillway of one, with the water streaming over and around them. They don't want really hectic water, but you can have a  little action.
The good news for me – Mike is my 'figure it out' kind of guy.  My 'make it happen' kind of guy.  My 'I'm gonna make you happy' kind of guy.  I like those qualities in a guy!  I get to sit back and exercise the patience that About.com talks about.
So yes, I'll write about the other gardens. Those other gardens that had frogs.  But for now, I'm going to go to sleep.  While others dream about Prince Charming, I'll be the one dreaming about the frog.
Think this is the end of our frog saga? Think again! You'll just have to come back to see where this all leads.