What is going on in my garden?  Take a look at this picture and play the guessing game.  Well, if you've read the title, you probably know I'm not expecting rain.  I had to transplant something on a really hot day and I wanted success.  Though there is no guarantee that transplanting in the middle of summer will work, there are things you can do to put the odds in your favor.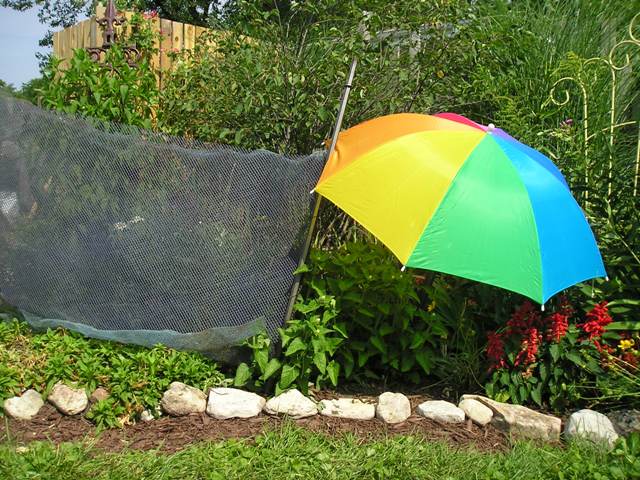 I didn't always know this. Going back some 15 years ago, I didn't garden much.  Ok, I didn't garden at all. When Mike and I were dating, he said I did all of my gardening in the house gutters.  So I not only didn't garden, I didn't clean helicopter seeds from my gutters. Mike married me anyway. Apparently I had other endearing qualities. I did try to garden, a little. I'd move a plant and a few weeks later it was dead. Same thing the next year. The problem wasn't the heat. The problem wasn't the plant. I hate to admit it, but the problem was the gardener.
Fast forward to today. This is what my garden looks like now when I transplant something on a hot day.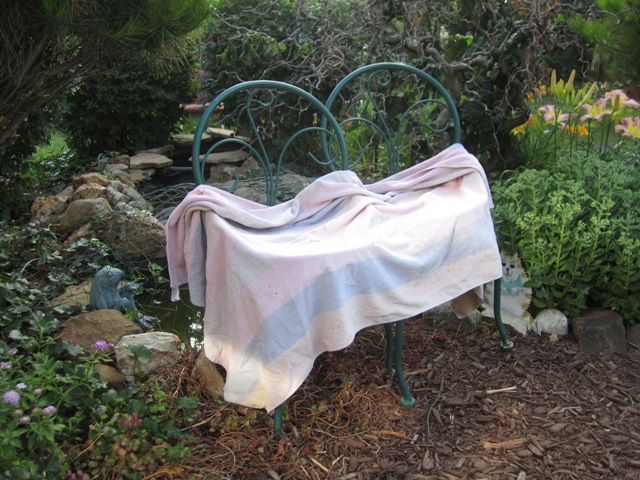 Like the first picture, the plants are in the shade. Never mind that they are sedum, plants that are perfectly happy in full sun with minimal water. They got water and they got shade for a few days. So simple, and it works. I do have a plan for that green grid you're seeing over the pond. It's there to keep my fish safe from predators. Stop back in and you'll soon see what I learned this weekend on one of the Aquascape Pond Tours. Ugly soon to be gone!
Success planting on hot days doesn't mean that I look for trouble intentionally.  When it is seriously hot, I am more likely to exercise patience than stupidity.  This week has qualified as hot.  I know this for a fact.  Our air conditioning was out for a few days and it was 88 inside.  Today, the temperature will be 97, with a heat index of 110.  I won't be doing any transplanting.  Even I have limits.