I was afraid. Very afraid. Afraid that inviting the Dahlia Club, Elk Grove Garden Club, and Bloomingdale Garden Club to visit our yard in mid-July would be a time of green. As in green everywhere with nothing much in bloom. After all, the garden was spectacular in late June with the roses and Asiatic lilies blooming for Alex's birthday party. By mid-July, they would be gone, and I'd be left with green.
I suppose there are bigger and badder things to be afraid of than green. I should (and do) truly consider myself blessed that my life is filled with a healthy loving family, and that we have jobs in this downturned economy. So if the worst thing I have to be afraid of is too much green in my yard, I've got it good.  So yes, I've got it good.  I know it.  I do appreciate it.  Hugely.
Still, I also wanted more.  More than just green.  And I got it!  Let's look at just this one area of the garden, and then dissect it.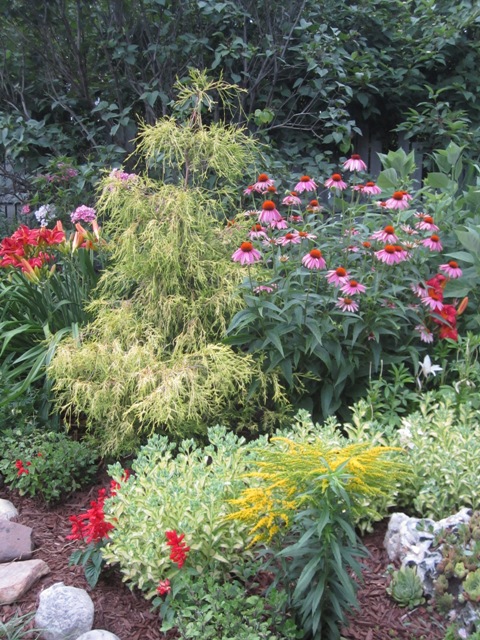 I could also be afraid that my color palette is not perfect.  But I'm not.  I read the books that show which color combinations go best together.  I've seen the color wheel.  I just don't care.  God knows what he is doing with color.  The sky is perfect with blue.  The sun is perfect with yellow.  And my garden is perfect with whatever colors He has me put there.  So when my pink phlox is next to dark red daylilies, I'm lovin' it.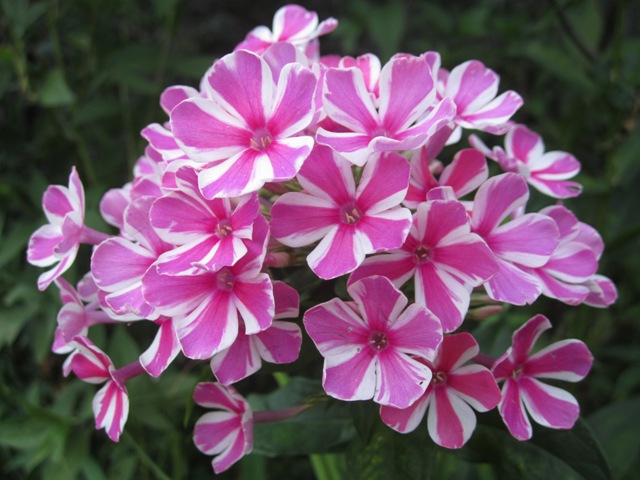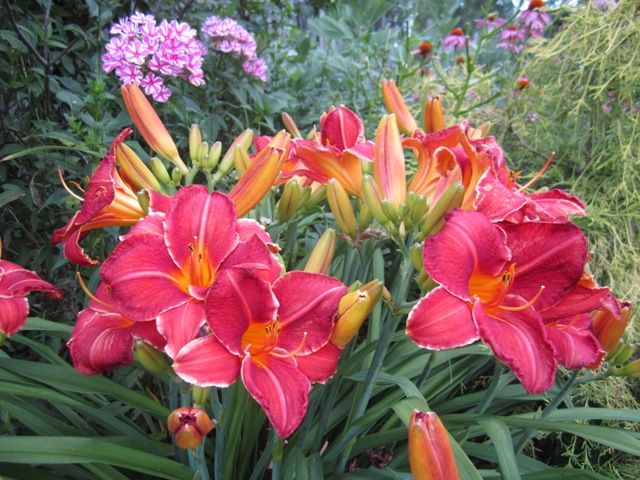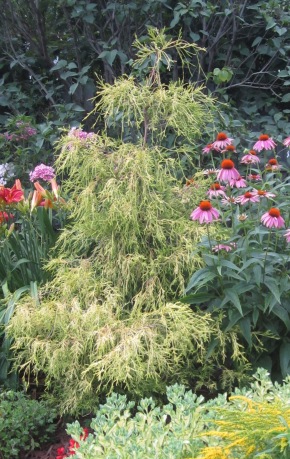 I'm also not afraid of putting something in the wrong place. The yellow evergreen we bought for a pittance from Rich's Foxwillow Pines was tiny. We were at a flower show and Rich had $5.00 pines. That is in my price range. It was tiny for years. Like one foot tall tiny. We've moved it a few times, and you wouldn't call it tiny anymore. Mike teases me that my plants are on wheels. Eventually, I get it right.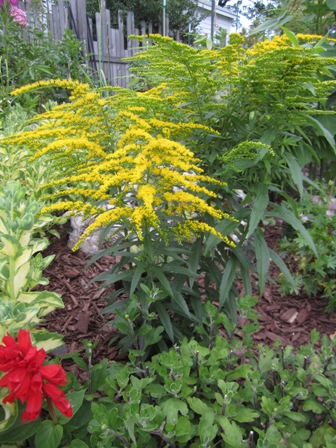 How about invasive? Should I be afraid of invasive? Ok, you've got me. I'm afraid of invasive.  Well, maybe not really afraid, lets call it aware.  I'm aware the goldenrod is invasive.  You just have to look around to see that.  What I needed to be was educated.  Solidago, which you see here, is not invasive.  I also learned that goldenrod gets a bad rap for causing hay fever. No more fear of goldenrod.
If you're afraid of getting it wrong, don't be. Gardening is a process. A very much continuing process. You make mistakes. You learn. We did. And we still do.
What else is blooming in the July garden? To see what other bloggers have blooming on the 15th of every month, visit May Dreams Gardens for our Garden Bloggers' Bloom day entries.