I'm definitely not in Disney World anymore. In Disney World I would not have to pick between soffits/fascia and a brick patio. The soffits and fascia would be beautiful on my castle, the surrounding patio and grounds would be gorgeous, and Prince Charming would be awaiting my return from my recent business trip.
Alas, reality strikes and we will choose the soffits and fascia over the brick patio. Fortunately, I do get to keep my Prince Charming. And the grounds are gorgeous.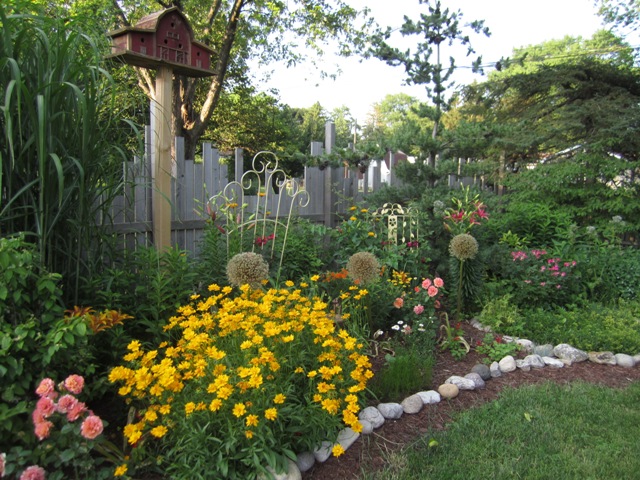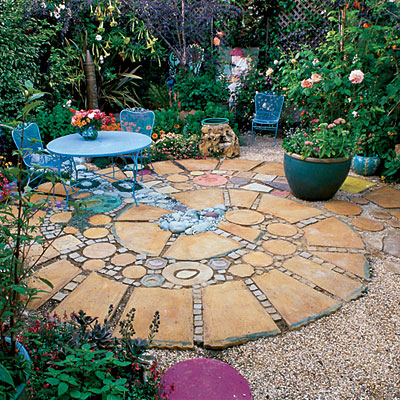 We'll save our 1500 bricks for next year, collecting up ideas in the interim. In my quest for ideas, I came upon the Sunset website – you know, books and magazines. The tab on Patios had some inspiring pictures. I know this one isn't brick, but it captures the essence of my thus far unformatted design plan.
I want to use a mixture of materials. The very rough plan incorporates bricks, pavers, plant materials, mosaic, and Allie's footstep in a stepping stone. Eclectic, informal, fun, like me. And judging by the expected cost, I'll have plenty of time to plan a project that will again challenge every brain cell and every muscle in Mike's body.
Dream on, Princess Carol. Dream on, readers. Peruse the Sunset website for ideas on Garden-to-table guide to tomatoes, Front yard makeovers, Earth friendly, Creative small-space gardening, and 41 gorgeous garden paths. Did I just say garden paths? Hmmm. Could those be made out of brick? Gotta run now. Research time.
This article is a continuation of We're Planning a Patio and Oh No, The Patio.  There will be more.