Has there ever been one of those plants that you want year after year but just refuse to spend the money on? There was for me. It was the globemaster allium. Every spring I'd see them in other people's gardens, and I'd say to myself 'This is the year I'm going to pay the ridiculous price and get those'. Then when the bulbs came into the nursery in the autumn, I'd look at the $8 – $10 price tag for one bulb and I'd say 'I am not doing that'.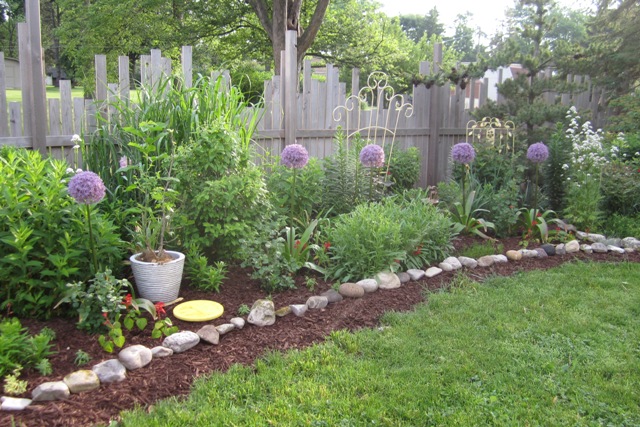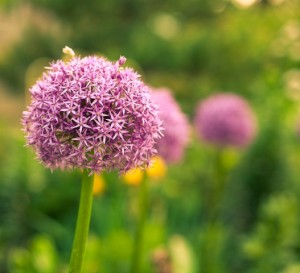 As you can see by the pictures, I found a way to get the globemaster bulbs. Even better, I found a way to get them without paying for them. My birthday is in October. I don't know why it took me so long to ask for them as a present. I guess I couldn't see anyone else spending that much for a bulb either. Last year, I finally broke down. Not enough to buy them myself, but enough to have my kids spend their money.
So was it worth it. Oh My Gosh – Yes! They are huge. They are also lasting well. I bet it's been 3 weeks and they are still going strong. To make it even sweeter, Jim Kassner stopped over and said his 3 globemasters have turned into 12. Yes 12. I can hardly wait for next year!
I can even repurpose my alliums in the autumn.  Take a look at this cute allium haired scarecrow that Cathy sent me a picture of last year.  Kinda makes you want to start saving your pennies, doesn't it?  Or maybe just lie about when your birthday is.
What else is blooming in the June garden?   To see what other bloggers have blooming on the 15th of every month, visit May Dreams Gardens for our Garden Bloggers' Bloom day entries.