It's the morning of Christmas Eve. Unbelievably, everything is on schedule and in control. Now there's a miracle for you. That will all change when John and Heather get here with Alexandria. For us, this Christmas is all about the baby. Our granddaughter is 18 months old. She is joy, excitement and energy wrapped up as a little girl. Among her gifts is one I think will be a favorite – a big box. It is wrapped and has cut-out windows. Little kids always seem to like the box best anyway, so I went right for it.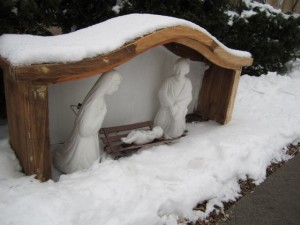 We received a gift 2000 years ago, baby Jesus. That is what every Christmas is all about. He was love, God, and savior wrapped up as a little boy. Its hard to imagine one person affecting the whole world the way that baby did. Even our calendar is based on before and after Christ. The one person who was without sin. I don't know about you, but I have trouble being that good for minutes. Its one of the reasons I believe.
As I start my Christmas Eve, I'll tie back to the theme of this weekly series and tell you what looks good in my yard this week. That would be the crèche.
I wish you a happy and blessed Christmas!
Carol
This is an installment in the OhWhatAWednesday series, where I dare to take on the task of finding something in my garden that looks good even during a Chicago winter.