Food – Water – Shelter. Those 3 words should be enough for an article on attracting birds for the winter.  Just 3 words:  Food – Water – Shelter.  There, I'm done.  Well, not exactly.
Those 3 words (Food – Water – Shelter) were not new information for me, and those 3 words (Food – Water – Shelter) may not be new information for you. Still I had to see Bob and Michele George's yard before it hit home. So you get to see their yard too.
This furry and feather filled area was 3 feet away from their patio doors, and busy the whole time I visited.
Food
Bob and Michelle have a variety of feeders and a variety of food types.  It's no surprise they also have a variety of birds. Some tips from Bob:
Use a good wild bird food mix from a reputable source.  Not the cheap stuff that has useless filler, like milo.
Some birds like to perch on a hanging feeder.  As you can see in the picture above, many are very happy to feast on a flat surface.
Bob had added sunflower to the buffet, so a cardinal even visited while I was there. Sunflower seeds in a hanging feeder will attract cardinals too.
Have a suet feeder in the winter. Expect woodpeckers.
Niger for the goldfinch.  Fresh niger, as it tends to spoil quickly. Niger should be in a feeder with a roof to keep it from getting wet and moldy.  Goldfinch feeders are often tubular and made of wire mesh.  The goldfinch hang on without a perch. If the tube has perches, other birds will eat the niger too.  Sock type niger feeders tend to be short term as the squirrels will quickly destroy them.
Bob will throw some peanuts out for the blue jays.  He had a wreath style peanut holder that the squirrels always found a way to open.
Water
Bob and Michele had something else I didn't – water. Our frozen pond is useless for the birds. Even with a heating element to keep an area open, they can't really get to the water with snow piled around. Duh.
I went home and took action. In my case, take action was putting the info into my 'Winter Interest' presentation.  That led to Mike seeing the presentation at the Buffalo Grove Garden Club this week.  He made a note to go shopping. Next thing you know, Mike has been to Farm and Fleet. He spent $50 and I have a new heated birdbath hanging on my porch rail.  See how easy that was.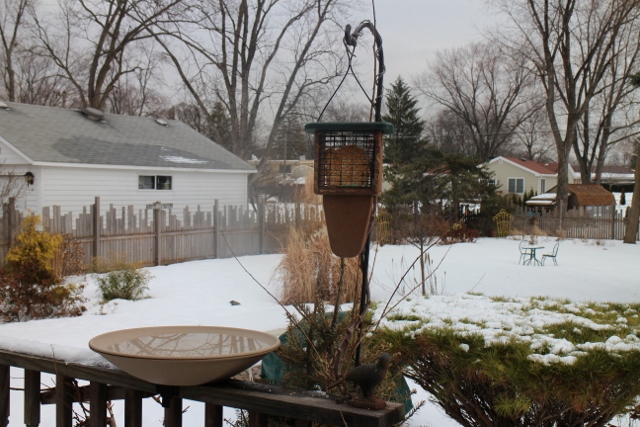 Shelter
As I sat in the George's family room, there was constant activity in the nearby arborvitaes.  Look closely at the picture.  Birds every two feet. This is normal for their yard. Birds here, there, and everywhere. The birds are cared for at the neighbors next door too, so there is a lot of movement.
Our home was severely lacking in the shelter area. Too much open space near the feeders. Nowhere for the birds to wait in line for a spot at the feeder. Nowhere to feel safe from the occasional hawk. This we knew, so Mike had already brought a few extra Christmas trees home as he canvassed the area on garbage day a week ago.
Food – Water – Shelter
I may not have mentioned this before, but there is a way you can attract flying winter interest to your yard. Try providing Food – Water – Shelter. Then sit back and watch the floor show.
Join me at the Chicago Flower and Garden Show on March 17th, 12:30. I'll be speaking on Winter Interest.