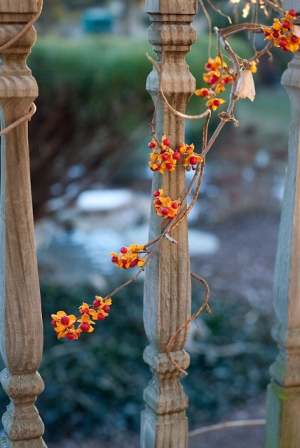 Winter blooms – not around here.
Winter color – that we have.
I was a bit surprised to find so much color in my yard, as I didn't really notice the range until I looked at the pictures. Could it be that you too have more color in your garden than you realize?
Granted, the brighter colors are surrounded by more brown than green, and the phrase 'quantities are limited' certainly does apply. Still, I have to admit that my quest for those non-existent blooms ended on a positive note. I'm sure you'll have to agree that the bittersweet pictured to the right is attractive. I think this plant knows it has to do something outstanding in the winter for me to put up with it in the summer. It grows so fast that I sometimes think I need a machete, which is totally contrary to my low-maintenance mantra.
For a totally different color, we have the beautyberry branch, complete with purple berries. There aren't nearly as many berries as there were in the autumn, but they get credit for being there at all. I wish this bush was in a more visible location.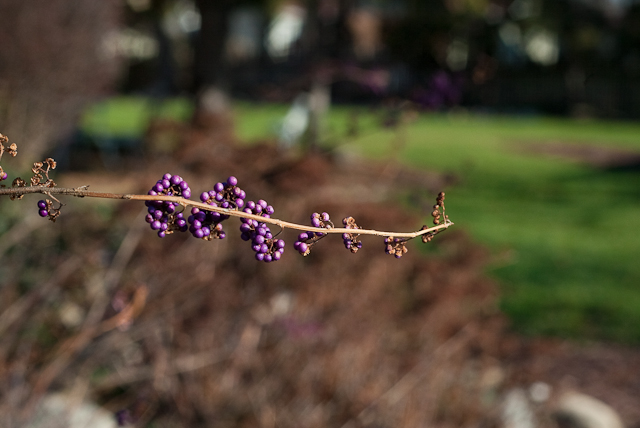 The cotoneaster takes us in another direction again, with many clusters of red berries. This one is right by the front door, where we can appreciate the show.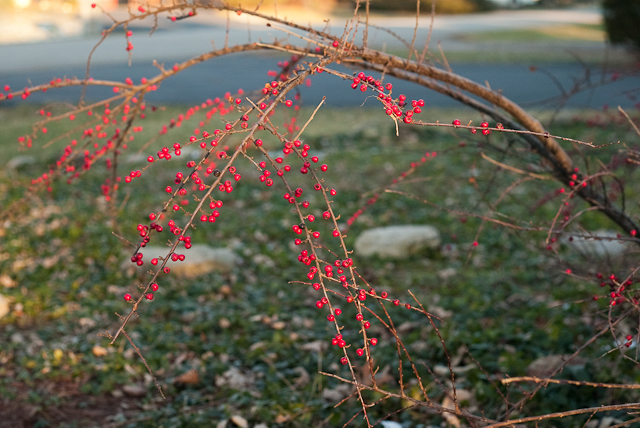 Even the berm has color contrast. The pachysandra in the foreground is quite a different shade of green than the ivy, with both of those groundcovers being a different green than the mugo pine. Add the tall grass glowing in the sun, and this view out our bedroom window is nice to wake up to.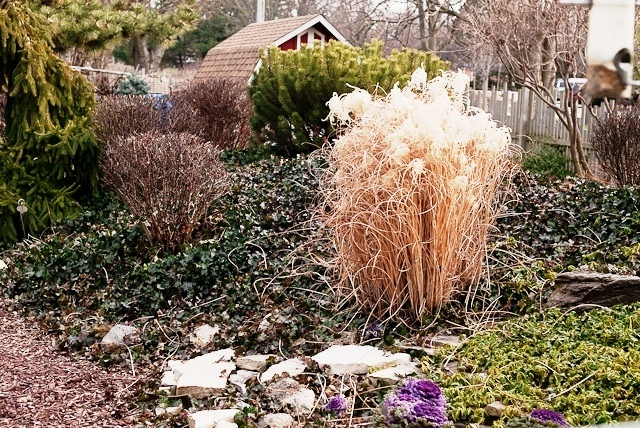 I do have to keep in mind that though my winter garden doesn't begin to compete with the blooms of summer, it has its own beauty. I just have to look a little harder.
Do you want to know what else is blooming in the January garden? To see what other bloggers have blooming on the 15th of every month, visit May Dreams Gardens – Bloom Day for our Garden Bloggers' Bloom day entries.